What is the Common App?
The Common App began as a way to simplify the college application process for both domestic and international students. It was started by 15 colleges who decided to "pool" their applications into one easily navigated application site. Today, the Common App has grown to extremely large proportions.
While it's most popular in the US, Canada, and parts of Europe, almost 900 different colleges and universities across all 50 states and 20 countries now use the non-profit Common App. Each year, it serves more than a million US and international students. 
How does it work? 
The Common App works by streamlining the college application process and allowing students to apply to a number of different schools from one central location.
This simplifies the application process for all students, but it's especially great for international students and students who don't have a great support system to talk to them about college admissions. 
The process can be broken down into four simple steps. 
Step 1: create a profile 
You start by creating your profile. This is where you will put all the general information about yourself that almost every college wants to know. This includes:
Name and contact information (including your demographics, country of residence, etc)
Parental information (including their highest level of attained education)
Information about your education (where you attended school, GPA, any awards or honours you've received, your extracurricular activities, etc)
Standardised test scores
Work and/or volunteer experience
Outside-of-school activities (church groups, community sports, community organisations, etc.)
Whether or not you qualify for a fee waiver
Your disciplinary history
Military affiliations
A personal essay 
The profile portion of the Common App is thorough so that by the time you start applying to colleges, you've already answered most of all the questions they'd be likely to ask you. 
Step 2: choose your colleges 
After you have completed the profile, you will be asked to select the schools you're interested in attending. 
The Common App puts pertinent information about all the participating colleges on a "fact sheet". By clicking on the college, you can see which standardised tests, if any, it requires, the admissions fee for both domestic and international students, whether an essay is required, and more. There's also a link to each college's website so you can find any information not listed on Common App. 
Step 3: get the requirements 
After you've added the colleges to your "My Colleges" list, a checklist of requirements for each school will be generated. This makes it simple to check that you have submitted all the required information for each school you are interested in attending. 
Step 4: submit those applications 
The final step is to submit your applications.
Some applications will be completely covered by everything you've already done with the Common App profile. Others will require you to submit a few extra things and you can submit many of those through the app itself. For example, when you are asked to provide a college with transcripts, there's a feature that allows you to request them from the registrar at your school without ever leaving the app. 
Some schools will require you to pay an application fee before your application is considered. However, if this presents you with a genuine financial hardship, Common App has a process through which you can request a fee waiver. If you request a Common App fee waiver, you'll have to supply some financial information or proof that you have a genuine financial need. For a list of qualifying reasons, check out this article. 
After you've been approved for the fee waiver, it will be applied to all the colleges you apply to via the Common App. Individual schools have the right to request further information from you regarding your need for a waiver. They can also deny your waiver if they choose, although this doesn't happen often. 
---
Brits in America: tips on applying to US universities as an international student
How to write a US college admissions essay
Four things international students should know about studying in the US
The cost of studying at a university in the United States
---
Which schools use the Common App? 
Many schools use the Common App exclusively. Others use both the Common App and the regular application process through their websites.
The Common App lists all these schools as well as a feature that lets you search for individual institutions. 
There's no hard and fast rule for which colleges use only Common App versus which schools use both Common App and their own application processes. A good rule of thumb, though, is that many private universities use the Common App exclusively, while many public schools use both. Some of the most well-known universities that use the Common App are Harvard University, Cornell University, Yale University, Princeton University, and Brown University.  
The Ivy League schools aren't the only ones that use the Common App, though. There are many schools from each state that use it, including the University of Alabama Birmingham, Arizona State University, California College of the Arts, Florida Institute of Technology, Savannah College of Art and Design, the University of Notre Dame and so many more. 
Common essay prompts on the Common App 
The Common App conveniently lists all the essay prompts on its website. The prompts often change from year to year. Each prompt focuses on you, the student. Each one is either about your history, a time when you overcame a problem, a time when you challenged a belief, your interests, a past accomplishment, or simply a topic you find interesting.
Wrapping it up 
The Common App is a great resource for both domestic and international students. It helps simplify the college admissions process to 800+ colleges around the world. It streamlines the process and keeps everything in one place so you aren't required to keep up with a hundred different passwords for separate college websites.
It also provides you with a convenient checklist for each college so you don't have to wonder, "did I submit my transcripts to that college yet?"
If you're getting ready to apply to colleges, creating a Common App profile is a great first step. You can then branch out from there if you need to do so. 
Read more: Hoping to apply to a US university as a foreign student?
Featured image
Image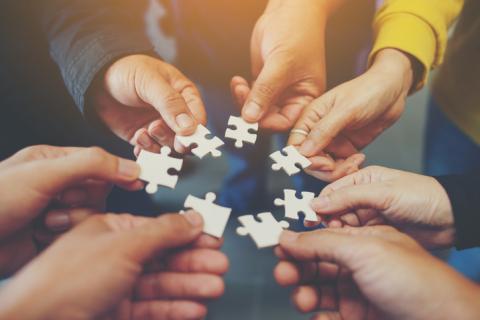 Standfirst
This guide to the Common App breaks down exactly what it is and how to use it to apply to university in the United States