When choosing where to study abroad, hearing from current students is one of the best ways to get a feel for what a university or country is like. Here, students from a range of universities in Europe share some of their top tips and the biggest challenges they faced when studying abroad. 
How to choose a university in Europe
Clementine Grosseau is a student at ESSEC Business School near Paris, and she is currently studying internationally at ESSEC's Singapore campus. When it came to studying abroad, she found finances to be a large factor in her decision. 
"I think everybody knows that US schools are very expensive, and one of the best ways to get away from that is to study elsewhere. ESSEC is extremely affordable, and I thought that their programme was worth the money that I was investing. I mostly joined because of their incredible study abroad opportunities and intense internships," she said.  
Ece Acar, a medical student at the University of Milan, said that the difference in academic requirements encouraged her to study abroad. Growing up in Istanbul, she was expected to take the Higher Education Foundations Examination, which is the only way to get into university in Turkey. "It's only one exam so it's really hard to get into medicine. I studied at an American high school in Turkey, so I wasn't really ready for this entrance exam. But Italy's medicine exam, the International Medical Admissions Test (Imat), was specifically tailored for my studies," Ece said.  
Both students found that their chosen universities in France and Italy had lower tuition fees and a wide array of scholarships that they could apply to. 
For Bernardo Valente, originally from Portugal and studying economics and finance at Bocconi University in Milan, the decision to move abroad was all about location and the opportunities on offer. 
"I focussed more on finding what course I wanted to do. I just tried different things in high school. And then in the summer of grade 11, I did a course in economics and business strategy and really liked it. In terms of location, I applied to several universities and in the end, it came down to what was closest," he said.  
Erkaiym Saparalieva, who is studying communications and media at Erasmus University Rotterdam, was not originally planning to study in the Netherlands. While she was completing her university applications at home in Kyrgyzstan, a friend told her about Erasmus University and she soon found it had the perfect course for her, too. 
"I was interested in studying something like journalism and I found this communications and media programme and I really liked it based on what it offered," she said. 
Adam Baumann is originally from Sweden and studies econometrics and economics in the Netherlands. And he chose to take "a wide course, a double bachelor's...Pick what you are interested in and what you can see yourself doing in the future." 
What are the best parts about studying abroad? 
For Clementine it was people she met and the friends she made from around the world that quickly became her favourite aspect of studying abroad. "Sharing culture and talking to others is something you can never replace and that's the beauty of studying abroad," she said. 
Ece loved the difference between Italy and Turkey. Where Turkey seemed to be quite "old school" when it came to examinations, her university in Italy encourages a new way to approach exams. Shorter oral exams more frequently throughout the term tended to suit her rather than written exams twice a year. Her favourite perk of studying in Europe is the ability to travel to other European countries easily.
What support did your university provide to study abroad? 
In France, Clementine received assistance with all the paperwork required as an international student, from both the government and her university. She was sent regular reminders to renew visa information or documentation throughout the year and was provided with step-by-step instructions to make the experience easier. 
The university also held many events to integrate international students into the community.
Ece had a different experience when it came to paperwork. The Italian government and university administration were less helpful with visa applications and left students to figure out the paperwork themselves, so it was a bit more complicated to stay on top of everything. However, the older students at university understood the challenges and were on hand to support the newer students. 
Ece did find that her university was more supportive when it came to finances. She is required to pay €156 (£133)per year and can receive up to €5,000 in scholarship funding, while accommodation in Milan costs only €2,700 per year. Students are also provided with a free lunch every day and half-price meals for dinner. 
Tips on paperwork to become an international student
Erkaiym advises that students begin looking into visas and accommodation as soon as they are accepted into university.  
Adam also advised students to be careful when it comes to accommodation in their chosen country. "I got scammed when I came here [the Netherlands] in my first year...it's very important to research and look into trusted associations," he said.  
Bernardo did not require a visa for his studies. However, he advised starting the search for accommodation as early as possible. "Try to meet people also looking for accommodation to get more opportunities." 
---
Best universities in Italy
The cost of studying at a university in France
International student: a US student in the Netherlands
---
Ece initially found the language barrier a struggle when she arrived in Milan. She knew basic Italian vocabulary but found that as she went about her daily life in supermarkets, restaurants, and classes, she began to learn more. As a medical student, she also had access to free Italian classes for the first two years of her degree to help her communicate with patients later in her third year. 
A tip that Erkaiym shared was to read and watch TV or movies in the language you are learning and always keep a dictionary on you because you are often allowed to use it during exams – just check with your lecturer first. 
The students all agreed that how you set your budget will depend on your personal finances but it's always best to start off being strict. Take the first few months to learn how much your basic living costs are. Then you can adjust accordingly based on how much you are spending on rent, food and travel and set aside any extra money for something fun later down the line. 
Bernardo found it difficult transitioning from high school, where most opportunities are laid out for you. At university, students need to go out and find opportunities on their own. He advised students to be active about joining associations, practise the local language and enjoy themselves.
"It's better to join something, try it and not like it rather than not try it and then regret it later because, for example, I joined several associations and I honestly found great friends there," said Erkaiym. 
Adam agreed that finding your interests before you go to university can help you choose what clubs and societies to join and will help you to make friends.  
"Take full advantage of the introductory week because that is the best place to make friends when you first start," he said.  
What would you say to people who are hoping to become international students? 
Clementine wants future international students to know that studying abroad is a great opportunity and provides a chance to travel. She advises students not to be afraid of language barriers. "You will learn, and you will feel proud of yourself when you manage to learn something new," she said.
"It's super scary at first and the paperwork will be daunting. But I think once you make it and you're living, and you meet these people from all over the world that you probably never would have met you realise it's worth it. If you have the means and the want and the support, go for it," Erkaiym said.
Ece agreed that studying abroad is amazing as it had given her the opportunity to learn new life skills and gain independence. 
Featured image
Image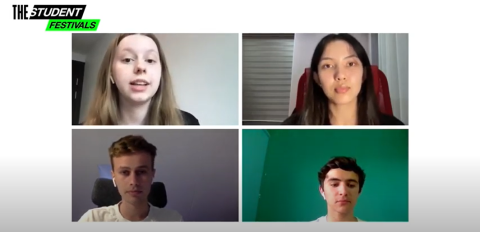 Standfirst
Throughout our 2022 Europe Festival we heard from many students studying in Europe, who shared their tips, tricks and experiences of studying abroad.