Travelling abroad is a bit of minefield at the moment. Knowing the requirements for the country you are travelling to can take a while to untangle, so we've put together this guide to the vaccine requirements for international students travelling to the UK, the US, Canada and Australia.
United States
Any non-US citizen who is planning to fly into the US must be fully vaccinated before arriving. All travellers are also required to have a negative Covid-19 test result at least one day before travelling. More information on vaccination statuses can be found here. 
Some individual universities also have their own rules.
As it stands, more than 1,100 US colleges – including the entire University of California system, Georgetown University and Stanford University – have announced that vaccines will be mandatory for students coming to their campuses.
The US is recognising only Covid-19 vaccines approved by the US Food and Drug Administration or the World Health Organisation (WHO). These include:
Comirnaty Pfizer-BioNTech
Moderna
Janssen (Johnson and Johnson)
Oxford/AstraZeneca
Covishield
Sinopharm
Sinovac
Before travelling, check the specific Covid-19 policy for your university. Your vaccination certificate from a US-approved programme should be enough to vouch for your vaccination status, but it is worth checking with individual institutions.
Some states are using apps that allow you to enter your details to get a vaccination pass, so this may be an option for you. Again, before travelling, it is important to understand which methods are required to prove your vaccination status, and to know what is accepted in the US state you are visiting.
---
Covid-19 travel updates for international students for the UK, the US, Canada and Australia
How are international students coping with the Covid-19 pandemic?
How to keep up the academic rigour in the Covid-19 lockdown
International students would be more likely to choose a US university if it mandated vaccine passports
---
Canada
Currently, international students can travel to Canada under current restrictions as long as they have proof of a negative molecular Covid-19 test taken within 72 hours of the start of their travels. You will also need to submit your proof of vaccination and your qurantine plan onto the ArriveCan App or website in either English or French. 
There is currently no country-wide mandate on vaccines in Canada. Requirements will vary based on the university and policy within the province.
Some universities have mandated vaccines in order to enter the campus, so it is important to check that before travelling. 
Some of the universities that have mandated vaccines include the University of Toronto, McMaster University, the University of Alberta, the University of Ottawa and the University of Calgary.
Within the universities where vaccines have been mandated, students who decline will have to enrol in online classes or take the semester off.
However, some other universities have not mandated vaccines for students, among them the University of British Columbia and McGill University.
UK
Under current rules, international students can travel to the UK. Most fully vaccinated travellers can enter England, Scotland, Wales and Northern Ireland without taking a pre-departure test or quarantining, but you must do a Covid test within two days of arriving.
The follow vaccines are currently recognised in the UK:
Oxford/AstraZeneca
Comirnaty Pfizer-BioNTech
Moderna
Janssen (Johnson and Johnson)
Covishield
Universities are not generally requiring students to be vaccinated to go on campus, but most institutions recommend taking a lateral flow test before visiting campus, and some universities require you to wear a mask during classes. It is advisable to check the requirements for your university before travelling. 
You can come to the UK if you aren't vaccinated, but you will be subject to extra testing and quarantine requirements.
If you are vaccinated through a UK-approved programme, you will be required to show proof of your vaccination status at the border. How you do this depends on where you got your vaccine. The UK government has created this table explaining how to prove your vaccination status depending on where you had it.
If you want to go to a nightclub or large event in the UK, you may be asked for an NHS Covid-19 pass, which you can download via the NHS app. To get your pass approved, you need to show proof of your vaccination status or a recent negative test.
Remember, there are slightly different Covid-19 restrictions in England, Scotland, Wales and Northern Ireland, so be sure to check the rules for the nation in which you'll be studying and adhere to any local restrictions.
---
Student visas for Australia: what has changed under Covid-19?
Student visas for the US: what has changed under Covid-19?
Study permits for Canada: what has changed under Covid-19?
Student visa applications for the UK: what has changed under Covid-19?
---
Australia
From December 2021 fully vaccinated international students will not be required to have a special permit to enter the country. Student visa holders will not need to apply for travel exemptions as long as they have tested negative for Covid-19 within three days of  arrival and be fully vaccinated.
So far it has approved the Pfizer, AstraZeneca, Moderna and Janssen vaccinations.
Quarantining and testing requirements will vary between different states so do check those before travelling. 
This article was first published on 10th October 2021 and will be updated as vaccine guidance changes.
Featured image
Image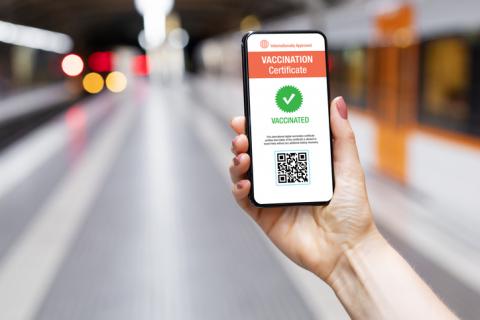 Standfirst
Do you need to be vaccinated to study abroad? Check out our guide to vaccine passports and rules in the UK, the US, Canada and Australia for international students, including which vaccines are approved in each country