With increased focus on mental health around the world, and less of a stigma around discussing it, we've looked at which universities in the UK, US, Australia and Canada offer courses to help students learn more about this topic. 
Many undergraduates doing courses such as psychology, medicine and biology are likely to study modules on mental health and well-being.  
Postgraduates have more options to study specialised courses looking in depth at mental health conditions, whether specific illnesses or the physiological aspects of mental health conditions. 
There are many paths you can take to work in mental health depending on what career you want to pursue. 
| | |
| --- | --- |
| Career  | Degree  |
| Certified alcohol and drug abuse counsellor  | Master's or doctorate degree, specific certification  |
| Clinical psychologist  | Doctorate  |
| Clinical social work  | Master's degree, licensing  |
| Licensed professional counsellor  | Master's degree  |
| Marriage and family therapist  | Master's degree  |
| Mental health counsellor  | Master's degree  |
| Nurse psychotherapist  | Master's degree  |
| Pastoral counsellor  | Master's degree, ministry experience  |
| Peer specialist  | High school or GED and peer experience  |
| Psychiatric nurse  | Bachelor's degree, RN registration, specialised training  |
| Psychiatrist  | Medical school doctorate degree, completed residency and certification  |
| Psychologist  | Doctorate degree (PsyD or PhD), licensing  |
| School psychologist  | Doctorate degree  |
| Specialised therapists (art, music, equine, etc)  | Varied pathways into this career but the minimum requirement is usually a bachelor's degree with certification |
Mental health and well-being degrees in the US 
Harvard University offers 16 mini courses exploring different aspects of mental health including depression, trauma and recovery, meditation and psychotherapy, and dementia. These courses range in price and have different start dates across the year. Some can be taken entirely online, while others are a mixture of in-person and online teaching. These courses are available to anyone, not just students already enrolled at Harvard.
The University of Pennsylvania offers an advanced nursing degree in psychiatric-mental health where students will study a range of topics including medicine management and biopsychosocial assessment and diagnosis. Students can study full-time or part-time to fit around other commitments.  
The Florida Agricultural and Mechanical University is designed for people who want to pursue a career in an agency, private practice, or in clinical mental health counselling. All students will study three core courses – intro to educational research, human development and introduction to the counselling profession. They will then choose from 14 modules to specialise further as well as undertake work placements. 
The University of Rochester in New York has a master's programme in mental health counselling. Students who wish to apply will need a bachelor's degree or equivalent in psychology, human development, education, sociology, brain or cognitive science. This degree is offered as a flexible programme. Students will focus initially on master's research methods and theories of human development and can then choose any of the specialisation courses and human development courses while also completing six internship credits.
Mental health and well-being degrees in the UK  
The University of West London offers a range of undergraduate courses focused on mental health, including addiction studies and mental health nursing. There are also postgraduate courses available where students can study dementia and mental health nursing. 
Students could consider a University of Northampton, available as a three-year degree or four-year extended degree. Teaching areas include child, adolescent and adult mental health and mental health in the workplace. 
At the University of East London students can do an undergraduate degree in counselling. Offered as a full-time, three-year degree, students will learn about person-centred therapy, cognitive behavioural therapy and psychodynamic therapy. Throughout the course, they will build up to 100 hours of placement experience preparing them for a career in mental health. 
King's College London offers an MSc in mental health, which can be studied full-time in one year or part-time over two years. The course is made up of a basic mental health module, a combination of modules in research methods, a research dissertation and then two or three extra optional modules. Optional modules include women's mental health, social and community mental health, pharmacotherapies and mindfulness. Students need a minimum 2:1 in their undergraduate degrees to be eligible for this course.
At the University of Warwick students can take an MSc in mental health and well-being, covering a range of topics including qualitative and quantitative analysis, mental health and well-being, workplace stress and experimental design and data collection.  
---
What can you do with a psychology degree? 
What can you do with a nursing degree? 
What can you do with a medical degree? 
---
Mental health and well-being degrees in Australia 
The Virginia Commonwealth University. Graduates of this course will be recognised as a graduate of all three institutions.  
The University of Southern Queensland offers a master's degree in counselling focusing on alcohol and drug studies. Students must complete 16 core units and usually finish approximately four units a semester. In addition to these, students will also complete interactive clinical hours with specialist equipment and experiments. The university also offers specialised master's degrees in advanced practice, child, youth and family therapy and mental health counselling. 
If you are interested in Flinders University has an undergraduate course in the topic. Students will study core modules in communication, human bioscience and interprofessional practices as well as indigenous health and research skills. Students will then progress to specialised therapy topics in their second and third years. 
Mental health and well-being degrees in Canada 
As well as a bachelor's in psychology, the University of Toronto offers an undergraduate course in mental health studies. The course covers topics such as the causes of mental health conditions, and how they can affect everyday life. Students are expected have Grade 12 maths and biology before starting the course, but if they don't, they are able to complete these within the first year of their degree. 
To develop your skills in mental health research you can study an MSc in University of York. The course covers theory, research and treatment of mental health problems, principles of mental health research, evidence synthesis and an introduction to health statistics or regression analysis.  
There are three graduate programmes in University of Alberta; a course-based master's programme, a thesis-based route and a doctoral programme.
The first includes topics such as ethical skills, attitude to counselling, cross-cultural counselling and career counselling as well as a capping project where students will investigate an issue relevant to professional practice and arrive at a practical conclusion. The second route focusses on similar topics to the course-based programme but instead of a project, students will complete a thesis in a valid research subject. This is designed to prepare students to undertake a doctoral dissertation.
The doctoral programme includes courses in history and systems of psychology, advanced counselling and a counselling psychology internship. Students can take an elective course and will also sit an oral exam and complete a dissertation. 
Featured image
Image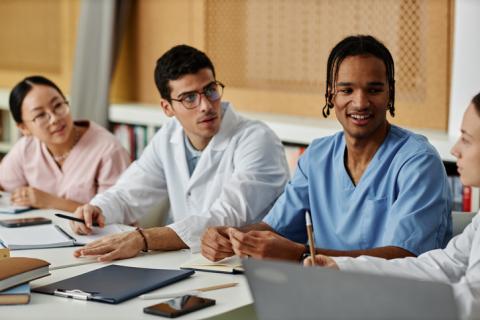 Standfirst
Universities have responded to growing interest in mental health conditions and their effects by providing courses to explore this topic
Created date
2023-03-15T10:39:00+0000