Moving from school to university can feel like a giant leap. This is a time of change, of new experiences and feelings of uncertainty amplified by the various expectations on university students. You will need to navigate the demands of your new learning environment, studying and assignments, while juggling work, family and other commitments.
Here are some tips to make you feel more confident in your studies. These are based on our research focused on two theories – self-regulated learning and cognitive load theory – as well as our experiences teaching and researching the experiences of new undergraduates.
Acclimatise to your new learning environment  
Take the time to understand university life: attend university orientation events because these will help you develop an understanding of your degree/course expectations, plus give you opportunities to become familiar with the campus and how to access the university's online learning spaces.
Be organised: obtain module information and lecture timetables ahead of class so you can plan your weekly schedule. A major change between school and university is the increase in self-directed learning. Many new students struggle to manage this workload. Creating a weekly schedule can help you to stay organised and on top of your studying and assessment deadlines.
Develop social connections and friendships: classmates can help you navigate the expectations and learning demands of university. Being able to check in with a peer or friend to monitor your study progress or understanding of course content, ask questions and share experiences is valuable. If making friends seems daunting, lean in to university social activities and clubs, and remember that most students feel the same way, so you are not alone.
Know where to get help and seek it: seeking help is a key part of self-regulated learning. Getting support early and when needed minimises feelings of uncertainty, and helps clarify what you do or don't understand and what is expected of you. Use the university website to locate resources and reach out for help.
---
Seven ways to study and retain information as a university student
Flexibility is the biggest benefit of online learning, students say
Ten tips to ace exam season
---
Hone your study skills   
Organise your notes so they are all in the one place: filing your notes (handwritten or electronic) so they are all together (in a folder, for example) is a simple yet effective way to familiarise yourself with your study material because you are making efficient use of your working memory.
Make your own examples and scaffolds as study notes: by creating your own examples and scaffolds, such as writing a sample essay, annotating examples of past student work, making a template for the structure of a report or summarising a list of steps to follow to solve a problem or task, you are making effective use of your cognitive load. And this comes with a bonus – while you are making these examples and scaffolds, you are studying! 
See the big picture: when getting to grips with a particular content area, the trick is to know what you need to learn and how it all fits together. So, prepare an overview of the content you need to learn either as a table of contents or mind map, and then you can "zoom in" on specific points and prepare expanded notes. This is called chunking information. Chunking helps you remember specific info but also helps you develop a map of the content in your mind – ("zoom out") so you can see the big picture.
Approach assessment tasks with confidence   
Develop clear assessment task understanding: assignments are a key part of university life. Pay attention to the exact requirements of each task including the structure, assessment criteria, referencing, length and submission date, together with the purpose of the task and its broader connection to the subject or unit outcomes. If you are not sure you can always ask your teacher.
Break assessment tasks into small, achievable goals over time: an essay task could be approached in sections over a number of weeks. This will ensure you are making the most of your time and aren't completing the task at the last minute. Goals are more effective when they are task-based rather than time-based. For example, an initial goal might include developing an essay structure to guide reading.
Featured image
Image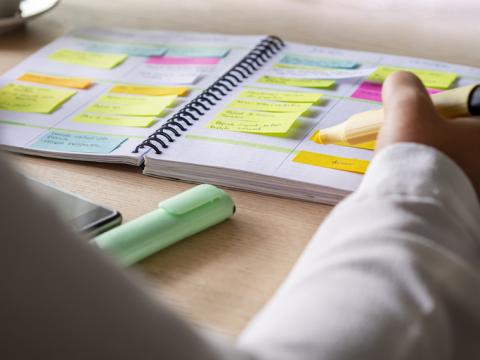 Standfirst
Dr Tiffani Apps and Professor Shirley Agostinho from the University of Wollongong share their top tips to set you up for success at university when it comes to studying