On top of travel restrictions and online lessons, Covid-19 has also caused disruptions to the normal processes of applying for a student visa.

As a top study-abroad destination, Canada has made several changes to its study permit application system to accommodate international students facing these complications. An important note to remember is that study permits and student visas mean the same thing here.
Below is everything you need to know about the changes to study permits in Canada due to the pandemic.
---
Everything you need to know about studying in Canada
Covid-19 travel updates for international students for the UK, the US, Canada and Australia
Everything international students need to know about student visas in Canada
Scholarships in Canada for international students
International perspective: a Chinese student in Canada during the coronavirus outbreak
A guide to student bank accounts in Canada
---
Designated learning institutions (DLIs)
To apply for a study permit as an international student, the Canadian university you're attending must now be a designated learning institution. DLIs are institutions recognised by the Canadian government for having a sufficient quarantine plan in place to safely host international student arrivals.
Many universities have been approved as DLIs and you can check if your university is on the list using this search tool from the Canadian government.
Two-step system for remote learners
Canadian visa application centres around the world have had to close or limit the services they offer because of local lockdowns, making it harder than usual for international students to gather all the documents they need. You can use this search tool to find your nearest Canadian visa application centre (VAC) and find out which services it is currently offering.
In response to this, Canada's visa process has been adapted into a two-step system to allow students to begin their studies remotely without having to submit all the forms usually required for a full study permit.
In step one of the new system, all study permit applicants must still submit the following:
Letter of acceptance from DLI in Canada

Proof of funds

Proof of eligibility for a study permit aside from documents unavailable due to Covid-19

If studying in Quebec, students must also submit a Quebec Acceptance Certificate (CAQ)
 
However, students can now submit study permit applications without the following documents:
Biometrics

Medical exam

Police certificate

Original travel documents
If a study permit application is submitted without these documents but would otherwise be deemed eligible, it will be "approved in principle". While you can't enter Canada with this outcome, you will be authorised to begin studying a Canadian university course via distance learning from your home country. Previously you had to have a fully approved study permit to begin your course, even remotely.
Step two of the process can begin once you obtain and submit the remaining documents missing from your application, after which you should receive a letter to say your study permit has been fully approved.
Once this is obtained, you will be able to travel to Canada and activate your study permit when you enter the country, as long as the university you're travelling to is a registered DLI.
Can I still apply for a study permit through the Student Direct Stream?
The Student Direct Stream (SDS) is an expedited version of the study permit application system for Canada. Students from the Philippines, China, India, Vietnam, Pakistan, Morocco or Senegal can apply and benefit from faster processing times, usually getting their visa processed in about 20 calendar days.
To qualify for the SDS, you must be from one of the above countries, and meet several extra requirements. These include stricter language levels than the normal study permit requires and a Guaranteed Investment Certificate (GIC) to show you have an investment account with a balance of CAD$10,000 or higher.
This SDS is still open despite Covid-19 disruptions, but you can only apply through the SDS if you have all your documents. If you do not have all your documents ready you have to apply through the regular system to get your study permit approved in principle.
There have been delays in the processing of the SDS so give yourself plenty of time to apply. 
How will studying remotely affect my post-graduation work permit?
On 12 February 2021, the Canadian government announced an easing of eligibility requirements for post-graduation work permits. This permit allows international graduates of Canadian universities to live and work in Canada for up to three years as long as their course was two or more years in duration.
It is now possible to complete your entire degree at a Canadian university while abroad and still be eligible to apply for a post-graduation work permit, if you have a study permit approved in principle allowing you to work remotely.
Previously, students had to be in Canada for at least 50 per cent of their studies, but this was extended to account for ongoing Covid-19 travel disruptions.
Featured image
Image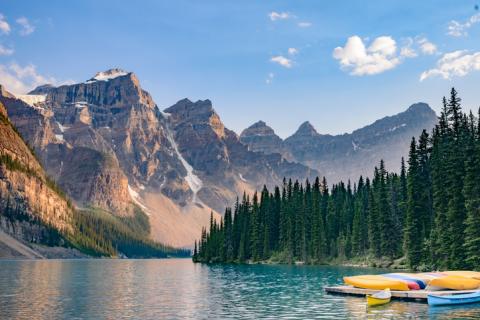 Standfirst
Covid-19 has led to an adjustment in student visa procedures for international students. Here are all the things you need to know about changes to student visas in Canada