On top of travel restrictions and online lessons, Covid-19 has disrupted the normal processes of applying for a student visa.
Overall, the application process for a student visa in the UK remains largely the same, but a number of rules have been adapted to accommodate international students facing complications. 
Below is everything you'll need to keep in mind when applying for a UK student visa during Covid-19.
---
UK post-study work visa deadline extended to 27 September 2021
What does the new post-study work visa mean for international students in the UK?
Covid-19 travel updates for international students for the UK, the US, Canada and Australia
Everything international students need to know about UK student visas
International perspective: an Indian student in the UK during the Covid-19 pandemic
---
You can start your course remotely before receiving your visa application outcome
Before Covid-19 and the widespread need for remote learning, it was the norm for students to only start their courses after entering the country on a student visa. Now, it's possible to start your course at a UK university via distance learning before your visa application has been decided, if:
Your sponsor is a student sponsor

You have been given a confirmation of acceptance for studies (CAS)

The course you start is the same as the one listed on your CAS

You have a valid 

Academic Technology Approval Scheme

 (ATAS) certificate, if applicable to your circumstances. 
A TB test is still required
One policy unchanged by the pandemic is that if you are coming to the UK for more than six months from any country on this list, you will need to provide a medical certificate confirming that you are clear of tuberculosis (TB) as part of your visa application. You must have this test at an approved test centre.
Although some international students have been unable to get tested in an approved centre because of travel restrictions or centres closing in the pandemic, the policy has remained in place.
Therefore, it's important to do your research on travelling to an approved test centre and ensure you leave plenty of time to get tested as you will need to show evidence of a negative test as part of your visa application.
How will studying remotely affect my post-study work visa? 
The post-study work visa allows international students at UK universities the chance to stay and work in the country for up to three years after graduating.
Usually, you need to have studied in the UK for the full duration of your course to qualify for this visa, but Covid-19 travel restrictions have meant some international students have had to study remotely in their home country.
To accommodate for this the UK has added several extensions to the dates of arrival in order to be eligible. 
If you began a course at a UK institution in autumn 2020 or later, you now have until 27 September 2021 to arrive in the UK to complete your studies and still be eligible for the post-study work visa.
New immigration helpline
The UK Home Office has set up an immigration helpline for any specific immigration and visa issues relating to Covid-19:
You can also refer to this guidance on temporary student visa measures released by the Home Office.
Remember to consider the current guidance on entering the UK before you apply for your student visa. You should also check the travel advice issued by your airline and check what you need to do before you leave for the UK.
Featured image
Image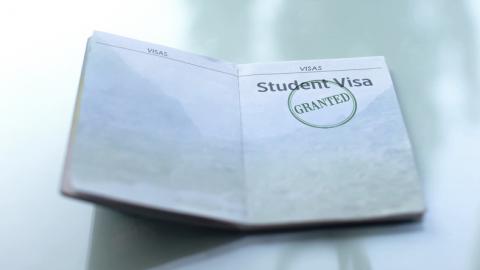 Standfirst
Here's everything you need to know about the changes to applying for a UK student visa during Covid-19