Germany is a popular study-abroad destination, not least because 16 German states abolished tuition fees for both domestic and international undergraduate students at all public universities in 2014.
However, even if you are eligible for free tuition in Germany, there will still be other costs you'll need to consider if you want to study there, including accommodation, food and flights.
Luckily, there are extensive scholarship opportunities in Germany for international students. Below is a list of some of the scholarship offerings in Germany to help you begin your search. It is by no means a comprehensive list, so be sure to do your own research into what you may be eligible for.
Individual universities and courses will often have their own specific funding opportunities as well, so it's worth contacting your chosen institution directly for more information.
You can also check this from the German Academic Exchange Service (DAAD) to help you get started.  
---
---
German Academic Exchange Service (DAAD) scholarships
The DAAD, or Deutscher Akademischer Austauschdienst in German, is a national government organisation offering all kinds of scholarship opportunities to international students in Germany. Scholarships through the DAAD include:
Offers monthly payments of up to €934 for 10 to 24 months (depending on course duration) to international master's students based on academic achievement and strength of research proposal. Applicants may also receive health insurance, travel fares, a monthly rent subsidy, support towards any health costs due to disabilities, and German language course fees. The DAAD also offers subject-specific master's scholarship programmes for , ,  and .
This scholarship is primarily offered to students from . 
Grants are awarded to students undertaking individual research projects with university supervision or structured doctoral programmes. The grant offers monthly payments of €1,200 for the duration of the doctoral programme, as well as health insurance, travel fares and a one-off research allowance. Applicants may also receive a monthly rent subsidy, allowance for accompanying family members, support towards any health costs due to disabilities, and German language course fees.
For a full list of their scholarships, visit the
---
---
Private scholarships
Sometimes private businesses or donors will fund scholarships for international students in Germany. Often, these will be merit based or targeted towards students from certain countries. Some private scholarships available for international students in Germany include:
The Heinrich Böll Foundation offers more than 1,000 scholarships per year to international undergraduate, postgraduate and doctoral students at German universities. Grants provide up to €860 per month plus various individual allowances throughout the duration of the course. Scholarship applicants will be expected to demonstrate their commitment to sustainability, human rights and social justice and have a strong academic record.
The German American Fulbright programme offers scholarship opportunities to US citizens studying in Germany on an academic exchange for 10 months or two semesters. Applicants must be visiting a German university or any other pertinent non-university institution, such as a research lab or archive. Some grants only cover travel costs, while others offer travel fares, health insurance and a monthly stipend of up to €1,200, as well as a spouse allowance for married students.
The Friedrich Ebert Foundation Scholarship offers a monthly stipend of up to €850 to students from Africa, Asia, Latin America or eastern Europe to study undergraduate, postgraduate or doctorate degrees in any field. For students with children, an additional family allowance of up to €276 per month is available. Scholarships are awarded based on academic merit and social and political engagement.
The Friedrich Naumann Foundation offers a range of scholarships (up to €1,200 per month) for EU and non-EU students and refugees studying in most fields and course levels. Applicants can apply for up to a year's funding, then apply for up to two more years of funding, if successful.
Other scholarships
As well as private and DAAD scholarships, scholarships are also available to international students from German state governments, businesses or individual universities and sometimes all three in conjunction. These include:
This scholarship is financed by the German Foreign Office and supports high-achieving international students and doctoral candidates at  LMU Munich. Up to €650 per month is available for a maximum of 10 months.
In conjunction with the Bavarian government, Technical University of Munich offers its international students between €500 and €1,500 per semester, dependent on financial need. Students can reapply every semester.
The Deutschlandstipendium Scholarship offers €300 per month to talented domestic and international students at participating German universities. Per month, €150 comes from businesses, foundations or private individuals, and the other €150 is from the German federal government. Many universities also support Deutschlandstipendium holders with mentoring, networking and internship opportunities. You can use from the German government website to see which universities offer the Deutschlandstipendium.
Heidelberg University studying mathematics, computer science, natural sciences or technology. Scholarships of up to €1,000 per month are available for the full duration of your course.
Featured image
Image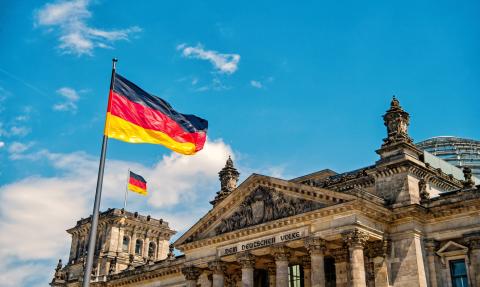 Standfirst
Are you an international student hoping to study in Germany? You might be eligible for one of these scholarships