Studying abroad can be an eye-opening experience wherever you go. But if you want to maximise your opportunities and get the most out of your experience, it is crucial to make an informed decision about where to study.
Luckily, there are plenty of resources to help you make a good decision, and I'll take you through all the factors you should consider.
University rankings
Rankings should not be the sole basis of your decision, but there are many good reasons to use them as a starting point.
The Times Higher Education World University Rankings give the most reliable indication of the quality of teaching, research, innovation and the global outlook of the best universities in the world. If you want a premium academic experience, a highly ranked university is a solid bet. You can also single out the best universities in your chosen subject by using the relevant subject ranking.
What's more, the reputation of a top university opens doors to opportunities that might not otherwise be available. At the end of your course, getting a job in the country you have travelled to is not always straightforward. Rightly or wrongly, employers are sometimes more willing to sponsor a visa for those graduating from a top university.
After the post-study work visa was abolished in the UK in 2012, non-European Union students could no longer automatically work in the UK in the two years after their studies. According to one recent University of Oxford graduate from India who now works in finance in London, employers are more likely to hire only international graduates from the best universities.
Read more stories about getting a job after study abroad here
There are also study-abroad scholarships that are available only to students at a top-ranked university. For example, students from South Korea may be eligible for a scholarship if they are enrolled at a top 100 university, and Albanian students can get a full scholarship from the government to study at a university in the top 15.
The rankings can also inform on another decision factor: the international environment on campus. As an international student, you will want to integrate as much as possible into the new culture abroad. This is much easier when a significant number of international students are already present on campus, as it ensures an open-minded, tolerant and diverse environment, according to Bruce Rayton, associate dean for postgraduate taught programmes at the University of Bath.
He says: "The experience is created for all those here on campus, because we enrich the university community and provide a set of experiences, examples and cultural perspectives that we simply wouldn't get otherwise."
There is no easy way to choose which university is right for your specific needs, so you should not base your decision on rankings and reputation alone. Here are some other factors to consider.
Costs
Tuition fees, living expenses and funding opportunities vary immensely across different countries, universities and course subjects.
The most expensive courses across the world are clinical undergraduate degrees and MBA postgraduate courses. The cost of clinical degrees, including veterinary medicine, can reach four times the price of other courses.
The good news is that Germany, Denmark, Finland, Norway and Sweden do not charge undergraduate tuition fees, with varying conditions, so it is worth researching the opportunities.
International study: annual tuition fee estimates (US$)
| | | |
| --- | --- | --- |
| Country | Undergraduates | Postgraduates |
| Australia | $11,750-$25,800 | $15,650-$28,900 |
| UK | $20,000-$55,500 | $12,300-$70,000 |
| Canada | $11,000-$38,500 | $6,000-$34,000 |
| US (private universities) | $26,000-$41,000 | $44,000 |
It's important to factor in living expenses as well, as these can vary greatly even from one city to another in the same country.
Universities, governments and external bodies all offer scholarships for international students. Some of these are available to students from a specific region, going to a specific region or university, studying a specific subject, or based on other factors such as ethnicity, gender and academic achievement.
Studying abroad is a full-on, immersive experience, and having the money to cover living expenses really matters. You don't have to secure funding before applying, but it should play a big role in your decision-making.
Visa
Visa applications in different countries consider different factors, including your age and educational background, funding availability, language skills and intended degree course. There are also different restrictions on how long you can stay in the country before and after your studies, and whether you can work during or after your degree.
Don't worry if you don't know your post-study plans yet – few people have a firm plan in mind for that far ahead. But if you know that you'd like to remain and work abroad, pay careful attention to visa eligibility requirements while you make your decision.
Admissions
You will have to demonstrate academic merit and language skills for any application to an English-speaking university, but the acceptance rate varies depending on how competitive a university is (how many applications it gets for each place) and the academic status of the institution. Generally speaking, the top universities are harder to get into, even for the brightest international students.
Some universities also have policies about the number of international students they can accept on different courses.
There is no hard and fast rule for maximising your chance of getting into a university abroad, but it is worth looking into acceptance rates for international students and considering any entry requirements you will have to fulfil.
Featured image
Image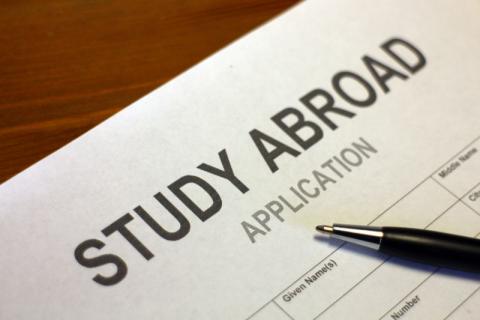 Standfirst
Four crucial factors to consider when choosing the best study abroad experience to suit you.