There are many reasons why Germany is a popular choice for international students, key among them its prestigious universities, lower tuition fees and European travel opportunities.
However, for many students the visa application process can feel overwhelming, and it can be hard to know where to start.
But you you shouldn't let that put you off studying abroad. To help with your applications, we've put together this easy-to-use table for a quick overview of what is involved when applying for a student visa for Germany.
See below for all the key information on German student visas, including costs, deadlines, language requirements, whether you can work or not on while a student and post-study work options.
| | |
| --- | --- |
|   | Germany student visa requirements |
| What type of visa is required? | Germany grants prospective student visas, which give you three to six months in Germany to gain admission to a course. Applicants with a university place can apply for a normal student visa. Both visas need to be converted into a residence permit after starting the course. Students from the US, Brazil, Japan, Canada, Australia and the European Union do not need a visa to enter Germany, but do need to apply for a residence permit once in the country. |
| How much does a visa application cost? | €75 |
| What are the language requirements? | Most degree programmes are taught in German. Applicants must prove their language level through a test such as the Test Deutsch als Fremdsprache; the Deutsche Sprachprüfung für den Hochschulzugang; the Goethe-Zertifikat; or the Telc Deutsch. Check with the university for the exact requirements. Some courses are taught in English, and may require proof of English language skills. More information here. |
| What money do I need to have to prove I can support myself? | €10,332 per year. This can be proven, for example, through proof of parental income or by depositing money in a blocked account in Germany. More information here. |
| Are there any additional charges? | Applicants need to prove that they have valid health insurance before coming to Germany. Students can pay for German public insurance, which costs about €110 a month for under-thirties. |
| Can I work while studying? | Students are allowed to work up to 120 full days, or 240 half-days, per year, although they may not be self-employed or work as freelances. EU students have unrestricted access to the labour market. |
| What are the post-study work options? | Students can apply for an 18-month residence permit to hunt for a job after graduation, during which time they can do any kind of work. |
| When should I apply for my student visa? | It can take months for a visa to be processed, so apply early. Even before receiving a university acceptance, applicants can still apply for a prospective student visa. |
More resources for studying in Germany
International perspective: a Canadian student in Germany
Expectations vs reality in Berlin
The cost of studying at a university in Germany
Top universities in Germany ranked by employers
The 10 most beautiful universities in Europe
International perspective: an Albanian student in Germany
Why I love studying in Berlin
Please note all costs and conversion rates were correct at the time of publication. These may vary over time.
Featured image
Image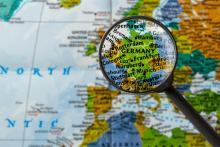 Standfirst
Confused about student visas for Germany? Use this table to find deadlines, costs, language requirements and post-study work options