Canada is a popular destination for international students due to its lower tuition fees, high-quality universities and good graduate opportunities. 
However, before you can study in Canada, you need to complete the visa application process, which can often feel complex and challenging. There are a lot of forms to fill out and deadlines to remember but you shouldn't let that put you off studying abroad. To help with your applications, we've put together this easy-to-use table for a quick overview of what is involved when applying for a student visa for Canada.
See below for all the key information on Canadian study permits, including costs, deadlines, language requirements, whether you can work or not while a student, and post-study work options.
 
Canada student visa requirements
What type of visa is required?
Study permit. This also automatically grants a visa or electronic travel authorisation, which allows you to enter the country.
How much does a visa application cost?
CAN$150

 (about £110)

What are the language requirements?
Most study permits have no language requirement, but universities will. To use the Student Direct Stream (a quicker application process open to some countries),

 

you need a 6.0 or higher on the IELTS (for English) or at least a 7 in the TEF (for French). More details here.

 

What money do I need to have in order to prove that I can support myself?
Students must show they have CAN$10,000 available per year of study, plus tuition fees. In Quebec, this increases to CAN$11,000. More information here.

  

Are there any additional charges?
Applicants might also need to pay fees for possible additional checks. These include a biometric check costing CAN$85, a medical exam, police checks and language certification.
Can I work while studying?

 

Students can work off-campus for up to 20 hours a week during their course, and full-time during breaks and holidays. There are no hour limits when working on campus, but you must fulfil a number of requirements first, such as having a Social Insurance Number (SIN) and a study permit which states that you can work.
What are the post-study work options?
The

 

post-graduation work permit allows graduates to work in the country for up to three years if they took a course that was at least two years long. It costs CAN$255 to apply and takes an average of 94 days to process.

 

When should I apply for my student visa?
Students should apply for a study permit as soon as they have received a letter of acceptance from their university.

 

Applicants resident in China, India, Morocco, Pakistan, the Philippines, Senegal and Vietnam can apply through the speedier Student Direct Stream, which usually takes 20 calendar days.

  
More resources for studying in Canada
Covid-19 travel updates for international students for the UK, the US, Canada and Australia
Everything you need to know about studying in Canada
Scholarships in Canada for international students
International perspective: Indian students studying in Canada
A guide to student bank accounts in Canada
10 things every international student in Canada should know
How to apply to university in Canada
The cost of studying at a university in Canada
Top universities in Canada ranked by employers
Please note all costs and conversion rates were correct at the time of publication. These may vary over time.
Featured image
Image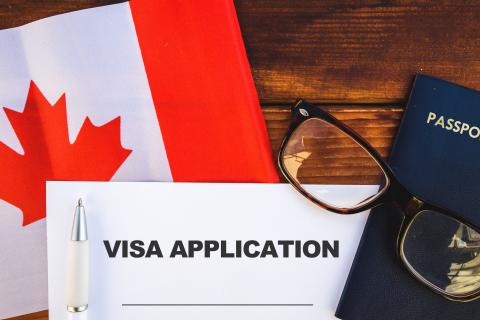 Standfirst
Find out everything you need to know about applying for a student visa in Canada with this table inclduing deadlines, costs, language requirements and post-study work options