Top 5 universities in the Netherlands 
Scroll down for the full list of best universities in the Netherlands
Studying in the Netherlands is becoming more and more popular among international students, partly because of the ample array of world-leading Dutch universities that teach in English.
In Times Higher Education's World University Rankings 2022, the 13 universities in the Netherlands all feature among the top 250.
The best colleges and schools in the Netherlands are found in 12 cities. Amsterdam has two top universities.
---
Best universities in Europe
Best universities in Spain
Best universities in Poland
Best universities in the UK
Best universities in Germany
Best universities in France
Best universities in the United States
Best universities in the world
---
As more and more international students choose to study at a top Dutch university, the number of degree courses taught in English has grown.
All Dutch universities in the ranking teach more than 40 different undergraduate and postgraduate degrees in English, and some – such as the University of Amsterdam and Leiden University – teach well over 100 degrees in English.
---
International perspective: a South African studying in the Netherlands
The perks of studying in the Netherlands
Graduate employability: top universities in the Netherlands ranked by employers
The cost of studying at a university in the Netherlands
Everything you need to know about studying in the Netherlands
Scholarships to study in the Netherlands for international students
---
Top five universities in the Netherlands
- Erasmus University Rotterdam is a public university located in Rotterdam.
- The university has seven faculties, which focus on the following four areas: health, wealth, governance and culture.
It is named after the 15th-century humanist and theologian Desiderius Erasmus Roterodamus.
The university was established in 1913 as the Netherlands School of Commerce, changing its name a few times before finally becoming the Erasmus University Rotterdam in 1973.
University staff include a number of notable scientists and politicians, such as the Nobel laureate Jan Tinbergen and former prime minister Jan Peter Balkenende.
- More than 200 degrees are taught in English at Leiden University, at undergraduate and at postgraduate level.
- The 28,000-strong student body includes students from 100 countries.
Founded in 1575, Leiden University is the oldest university in the Netherlands, and it maintains ties with members of the Dutch royal family, who often attend as students.
Many of the country's politicians were educated at the university, in addition to a number of prominent intellectual and cultural figures.
Philosophers such as Spinoza and Descartes were at Leiden during the Dutch Golden Age. Since then, 16 recipients of a Nobel prize have been affiliated with the university, including Albert Einstein and Enrico Fermi.
Despite its long history, Leiden University is not hidebound. It is known for innovating, and it employs a distinctive teaching style that focuses on individual learning and group work.
- Utrecht University was founded in 1636 and is one of the Netherland's most prominent research universities.
- Students and staff from some 118 different nationalities study and work at Utrecht University.
Utrecht University offers more than 90 postgraduate programmes and 12 undergraduate programmes. All programmes are taught in English, and they cover a wide range of academic disciplines, including natural sciences, law, governance, life sciences, humanities, social sciences and earth sciences.
There are many different student associations and clubs at the university, covering performing arts, sports, the arts and many other areas of interest.
- Established in 1632, the University of Amsterdam (UvA) is the third-oldest university in the country.
- It has about 24,000 students, making it the largest in the Netherlands by enrolment.
As well as featuring in the top 100 of the World University Rankings, UvA ranks particularly highly for arts and humanities and social sciences.
The university offers about 150 degrees taught in English, attracting more than 3,000 international students from more than 100 countries.
The main campus is in central Amsterdam, with university buildings scattered around the city, allowing for good integration between students and locals.
UvA is one of Europe's largest research universities, based on scientific publications and research funding.
The central library contains more than 4 million books and thousands of manuscripts, letters, maps and rare works. The university also has five museums.
- Has a specialist focus on agricultural and environmental science.
- There are just under 14,000 students pursuing undergraduate degrees, postgraduate degrees and professional qualifications.
Wageningen University & Research is one of the world's best institutions for life sciences and social sciences.
Most of the undergraduate BSc programmes are taught in a mixture of Dutch and English, but about 40 undergraduate and postgraduate programmes are taught solely in English.
The university attracts a significant number of international students for this reason – about 27 per cent of all students come from abroad.
In total, the university offers 20 different undergraduate programmes, including courses in business, international development and health sciences. There are 37 programmes at master's level, all of which are taught in English. All courses take two years to complete.
The town of Wageningen is in the centre of the country, but it is not very far from Amsterdam or the German border.
---
Top universities in the Netherlands 2022
Click each institution to view its full World University Rankings 2022 results
Featured image
Image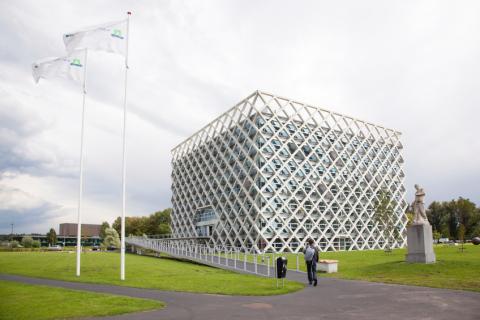 Standfirst
Find the top universities in Holland, using Times Higher Education's World University Rankings 2022 data