Melbourne is the capital of the state of Victoria, and has a population of 5.2 million, making it Australia's biggest city. It is considered a great place to live based on its clean environment, cost of living and quality of housing and education.
It has seven universities in total with nearly 300,000 students - more than a third of whom come from overseas. It is one of the biggest study abroad destinations in the world. Five of these universities are ranked in the Times Higher Education World University Rankings 2022.
Known for its music scene, cultural festivals, excellent restaurants, stunning parks and gardens and plethora of entertainment venues, there is no shortage of things to do in Melbourne.
The city itself is a multicultural melting pot, with residents from all over the world – which is also reflected in its globetrotting cuisine. 
With Melbourne as a starting point, the state of Victoria has a wide range of landscapes to explore – from immense stretches of coastline to stunning desert lands to snow-capped mountain ranges. 
Crowds of residents and tourists flock to annual international events such as the Australian Tennis Open, Melbourne Grand Prix and the International Test Cricket Series.  
Below are some of the best universities to study at in Melbourne based on the Times Higher Education World University Rankings 2022.
---
---
Top 3 universities in Melbourne
Founded in 1853, the University of Melbourne has seven campuses located across Melbourne and in other areas of Victoria, Australia. The main campus is at Parkville, located on the fringe of Melbourne's business district, and the 54,000-strong student body also study at Southbank, Burnley, Creswick, Dookie, Shepparton and Werribee campuses.
The University of Melbourne has one of the largest cohorts of graduate researchers in Australia, with more than 15,000 PhD, research doctorate, masters by research and postgraduate coursework candidates.
There are five research institutes, one of which was responsible for the development of the cochlear implant in the 1970s. 
Notable alumni include four Australian prime ministers, five governor-generals and nine Nobel Laureates, the most of any Australian university – as well as many other distinguished judges, academics, politicians and industry leaders.
Founded in 1958, Monash University is the second oldest university in the state of Victoria and the largest university in Australia. It is named after the engineer, military leader and public administrator Sir John Monash.
It is one of Australia's leading research universities and has five campuses in Victoria (Clayton, Caulfield, Berwick, Peninsula and Parkville), as well as one in Malaysia, a research and teaching centre in Prato, Italy, a graduate research school in Mumbai and a graduate school in Suzhou, China.
There are more than 6,000 courses spread over 10 faculties. It is home to over 120 research centres and institutes and some of the university's most notable research achievements include the world's first IVF pregnancy, the first seatbelt legislation, the discovery of the anti-influenza drug Relenza and the development of a single-use oral anti-malaria drug.
Famous alumni include musician Nick Cave, Booker Prize-winning novelist Peter Carey and playwright David Williamson.
Although it was established in 1964, La Trobe University's origins can be traced back to the post-World War II era where the country pushed towards increasing higher education facilities.
Its main campus is based the Melbourne suburb of Bondoora and covers 267 hectares of parkland, complete with waterways and a wildlife sanctuary, making it the largest metropolitan campus in Australia. There are two other campuses in Bendigo and the twin border cities of Albury-Wodonga. There are two smaller regional campuses in Mildura and Shepparton and three campuses in central business districts: two in Melbourne on Franklin Street and Collins Street and one on Elizabeth Street in Sydney.
Over 36,000 students attend La Trobe University and it is one of Australia's leading research universities, with particular strengths in microbiology, biochemistry, cell biology, veterinary sciences, historical studies and archaeology.
---
Trading America for Australia: my mother sent me to study 9,000 miles away!
The cost of studying at a university in Australia
Scholarships for international students in Australia and New Zealand
A day in the life of a student in Australia
---
The best universities in Melbourne 2022
Click each institution to view its full World University Rankings 2022 profile
Featured image
Image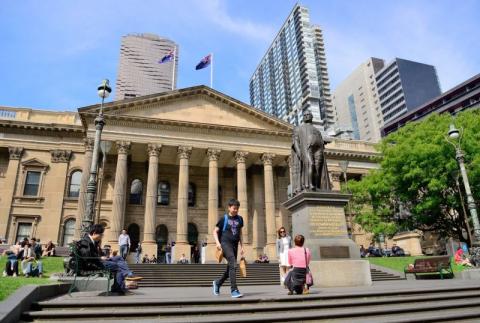 Standfirst
Find the best universities in Melbourne with Times Higher Education's World University Rankings 2022 data