If you don't want to quit your job but still want an MBA from a brand-name business school, you might consider getting it online. 
There are more online MBA options than ever before, with hundreds of business schools around the world now offering the opportunity to get the degree without ever having to step foot on campus, such as the University of Southern California, Carnegie Mellon University, Imperial College London and the University of Warwick. 
And if you still want at least some time in a traditional classroom, many programmes are hybrid, combining online learning with some face-to-face interaction from time to time.
There are several benefits to online MBA programmes. The first is that they provide greater flexibility compared with traditional on-campus programmes. You have the freedom to study at your own pace and set your own schedule, allowing you to balance your studies with work, family or other personal commitments.
These programmes also eliminate geographical barriers, allowing students to access world-class business schools from anywhere in the world, without the need for relocation or travel expenses.
In many cases, online MBAs offer a variety of specialisations that allow you to align your career goals and interests, such as finance, marketing or international business. 
There's also another major benefit. By and large, online MBA programmes are considerably less expensive, with lower tuition fees and savings on housing, campus facilities and commuting. At the University of Illinois Gies College of Business and Boston University's Questrom School of Business, the entire online MBA programmes cost less than $25,000. This might still seem a lot, but is less than if you were to choose to study any of these programmes in-person. 
While you will sacrifice the deeper bonding that comes from an in-person programme, most students say they are surprised by the close relationships it is still possible to form with classmates and faculty.
---
Best undergraduate business schools in the US
What can you do with a business and management degree?
What is the difference between an MBA and a specialised master's in business?
Best universities for business degrees in the United States
---
"Interpersonal communication in an online programme is notably reduced compared to in-the-classroom education," notes Juanjiangmeng Du, who is graduating from the global online MBA programme at ESMT Berlin this year. 
Du says that her school organises experience weeks and community events to increase face-to-face communication. Nonetheless, she believes online learning offers another key advantage. "The expression of personal views in an online environment is significantly increased," says Du. "In a traditional classroom, when a lecturer asks a question, there is only time for a few students to be heard. However, in an online forum, everyone can take the time to write down their opinions. By creating space for everyone's voices to be heard (and seen), the online experience reinforces inclusion, diversity and peer learning."
Zoriana Adamovych, who is taking the global online MBA from Dubai with IE Business School in Madrid, is equally enthusiastic about her experience. "Participating in this programme gave me an opportunity to meet people from around the world, from the Philippines to Mexico," she says. "I like that this programme was blended and, through the 18-month period, we had a chance to meet each other in person for three face-to-face weeks in Madrid."
What most surprised her about the programme was "the quality of connections that can be built in a virtual world. We learned from one other, supported each other (and still do!) and built friendships for life".
The admissions process for an online MBA is slightly less stringent than those of in-person MBAs, even though a graduate's diploma will not indicate that they took the online route. This means that on online MBA might be a more viable option for a great number of students. 
Both the pandemic and the prevalence of remote work and Zoom have led to greater acceptance of online degrees.
To learn more about the online MBA experience from current students and graduates, see The Best & Brightest Online MBA Graduates Of 2023.
Featured image
Image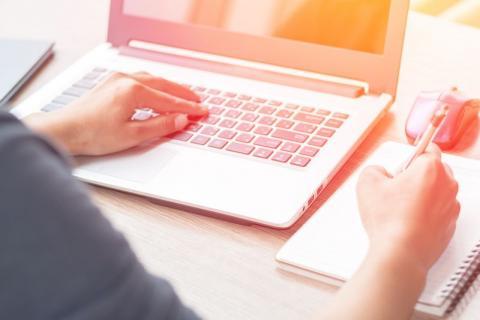 Standfirst
Online MBAs are becoming more and more popular due to their flexibility and low-cost in comparison to in-person programmes. Find out more about what its like to do an online MBA from students who have done them
Created date
2023-05-22T14:48:45+0100