The United Arab Emirates is sure to capture the attention of any student looking to study abroad and experience a different culture.
The UAE is a collection of seven emirates: Abu Dhabi, Dubai, Ajman, Fujairah, Ras al Khaimah, Sharjah, and Umm al Quawain, and is considered one of the most liberal areas in the Arabian Gulf. With a high literacy rate of 93 per cent and the fact that women account for 70 per cent of university graduates, this academically thriving country will provide a memorable study abroad experience.
According to the Unesco Institute for Statistics, 77,463 international students studied in the UAE in 2016.
There are many universities to choose from, many of which are tailored to international students through study abroad programmes. You are guaranteed to find a university for whatever subject you wish to study, particularly if you are interested in science, technology or business, where the UAE's education system excels.
But choosing to study abroad is not just about educational facilities; it is also about the environment that you will be living in. 
Preparations
Tuition fees: universities in the UAE set their own fees so they will vary depending on university, location, level of study and course but they typically fall between AED 37,000 (£7,726) to AED 70,000. Postgraduate courses are usually more expensive and fees can cost from AED 48,000 to AED 120,450. These might seem on the expensive side but many universities do have scholarships that will pay a percentage of the tuition fees.
Visas: to gain a student residence visa, you will need to be sponsored by a resident of the country. This can usually be done through your university but check with your student services to confirm this. Applying for the visa can be done online but there is always a possibility of rejection. Visas for students usually last for one year but this can be renewed depending on the duration of your course. Each application comes with a cost of AED 3,000 and a deposit of AED 1,000. The student residence visa process takes two to five weeks once all documents have been submitted correctly.
General health tests are also required upon arrival in the UAE.
---
Eight tips on how to choose where to study abroad
International perspective: an American in the UAE
Study abroad countries that you've never thought of
Applying to university overseas: what to consider
---
Academia
You can choose between large, public universities or smaller, public colleges. Many universities are accredited by the UAE's Ministry of Higher Education and Scientific Research and an accrediting agency from abroad. According to the United Arab Emirates University, this clarifies that the university has the governance structure, by-laws, regulations, policies and procedures, physical and financial resources, academic programmes, faculty and other personnel, and quality assurance measures that are needed to provide higher education.
Many of the American Universities in the UAE are structured similarly to the US academic calendar, with semesters starting in August and ending by the close of spring.
Global university branch campuses such as Heriot-Watt University Dubai, BITS Pilani Dubai and the University of Wollongong in Dubai would ensure that your qualification is internationally recognised. The advantage of attending a branch campus is that you can split your year as part of their programme. For example, Heriot-Watt offers intercampus transfers where students can choose to spend a semester or more at home or abroad (although this would involve additional visas and cost).
Universities are supportive of your career choices by helping students find and secure internship and job opportunities and holding career fairs that can bring many international organisations together for you to network with. The UAE is also known for its strong alumni network which is a good way to get further in your future career.
Most courses are taught in English. However, do not expect your average Western university experience. Although there is a high population of international students on campus, universities themselves are deeply rooted in Arab culture so it is important to adhere to behaviour expectations and dress code.
Lifestyle
Life in the UAE will probably differ greatly from what you are used to. For instance, weekends are Friday to Saturday so you might find that Thursday nights are livelier.
There are customs and traditions that you will need to adhere to and it is important to know these before you study abroad in the UAE. For example, be aware that revealing clothing is only acceptable on beaches and it is recommended that you dress modestly, particularly when visiting museums and mosques.
Various laws exist around the consumption of alcohol, which should be researched. During Ramadan, strict food, drink and smoking bans from sunrise to sunset apply to all, even foreigners.
Living expenses will differ depending on which emirate you decide to go to. There are two main types of accommodation in the UAE: university accommodation and private accommodation. Both types of accommodation tend to require a security fund deposit and expenses can range from AED 1,500 (£313) to AED 3,000 per month for university accommodation and AED 5000 per month for privately rented accommodation.
Furthermore, international students can expect to pay between AED 3000 AED and AED 6000 per month on transport, utilities, food, accommodation and entertainment.  
The UAE is your ideal destination if you love sunny weather and beautiful beaches. However, if you plan on staying during June, July and August, you may need to spend most of your time indoors as temperatures can reach up to 48 degrees Celsius (but every building is air-conditioned).
In the cities, tourist scams and pickpocketing are rare and levels of violence and crime are low all around.
Diversity and a fusion of cultures keep the streets vibrant, day and night. You can shop, hike, eat, explore the desert – the list is endless. Locations such as Turkey, Egypt, India and Morocco are only short plane journeys away so if you love to travel this might be the ideal destination for you. 
Studying in the UAE will enhance your CV and boost your career options whether you decide to stay in the UAE or go back to your home country. There are plenty of networking opportunities because of the large population of expatriates.
Read more: Best universities in the Arab World
Featured image
Image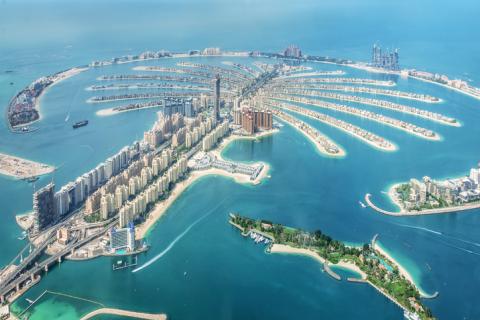 Standfirst
What is it like to study in the UAE? Find out everything you need to know about going to university in the UAE