If you've ever looked for university information and advice online, you will have come across student vloggers. With platforms such as YouTube and TikTok, students have increasingly taken it upon themselves to share their university experiences online, covering everything from the best cafes on campus to how to deal with stress and anxiety during a degree course.
---
Vlog: A week in the life of a student in Canada
Vlog: A week in the life of an American university student
Vlog: International student orientation week at CDU, Australia
---
This format for sharing honest reviews and experiences on university life has changed online discussions about higher education. It has altered the way students research their prospective universities because they are now able to hear from students themselves about how they feel about their university.
Often, it's been a way for minority students to share with a wide audience the experiences that they previously found it hard to publicise.
What was once a small percentage of students making videos and Instagram posts is now something that many students around the world do. Nowadays, there are many channels and creators making study-related content, but each one can provide you with valuable information about choosing a university and understanding international student life. Below are 10 YouTubers that you should know about, along with some of their best videos.
A student at the University of Sydney, Sebastian Pirie's videos document his experiences at medical school in Australia. His videos include day-in-the-life style vlogs that give an insight into his university routine, as well as longer real-time study-with-me videos that students can put on while they study – a trend that has rocketed in popularity while Covid restriction have increased the number of students working on their own at home. His earlier videos have included tips and admissions advice for applying for medicine at Australian universities.
A smaller channel, Filmbyzeb documents life at the University of Cambridge. Zeb is a fourth-year computer science student at Queens' College, and his videos are creative, meditative and authentic. He covers everything from general university and student life, managing mental health and well-being during the pandemic to college tours and day-in-the-life style vlogs.
He shares the ways in which he plans his study days and the small things he does each day to boost his well-being. In his ongoing series "The Influence", Zeb interviews fellow YouTubers about the rise of their channels and how being a YouTuber has changed their lives.
Deepika Maan is an Indian international student studying biotechonology at Centennial College in Toronto. Her videos are in both English and Hindi and include day-in-the-life style vlogs in which she shares her experiences as an Indian studying in Canada.
Recently, she has been covering the impact of Covid-19 on her university experience and explaining how it has affected her studies.
Former law student from the University of Bristol, Eve Cornwell has documented her university experience on YouTube for the past four years.
Her videos cover a range of law-related topics, from how to prepare for the LNAT exam when applying to law school, to an in-depth analysis of the much-loved comic film Legally Blonde. Now a trainee solicitor, her recent videos explore the transition from university into the world of work and provide tips for keeping productive as a graduate.
The first student from her state school in England to get into the University of Oxford, Renée Kapuku's education journey has now taken her across the pond to Harvard University, where she is studying for a postgraduate degree in international education policy with a full scholarship.
Her videos are motivational and informative, discussing her experience as an international student in the US and her tips for anyone interested in following the same path. Along with fellow YouTuber Courtney Daniella Boateng, she also hosts the To My Sisters podcast.
The principal creator behind Fellow Brownie is Northeastern University master of computer science graduate Mayank Ranjan Dayal, but it's really a collaborative project between a number of international graduates.
The channel is dedicated to helping prospective international students who want to come to the US for their degrees. With a particular focus on the Indian international student experience, Fellow Brownie videos cover everything from costs of studying in the US to how to deal with culture shock.
A final-year German literature with linguistics student at King's College London, Ehis Ilozobhie creates videos on university life and social commentary.
He talks openly about his experiences with higher education, including the ups and downs and rejections and achievements. Having studied abroad in Berlin as part of his course, Ehis also offers insights into his experience as a black British international student in Germany, settling in, finding an apartment and adjusting to the culture.
Ibz Mo is a well-known student YouTuber who has amassed a huge following during his journey from a state school in Hackney, East London, to the University of Cambridge to study human, social and political sciences in 2016.
Ibz is currently making videos about his experiences studying for the law conversion course at the University of Oxford. His channel covers everything from A levels and university application advice, to his experiences as a working-class person of colour at a predominantly white university. Ibz's famous slogan "bring them your seasoning" encourages students from a similar background to stay motivated and aim high.
While "studytube" is largely a positive space, it can also promote and at times glorify unrealistic and unhealthy work schedules and routines.
Jem, a student at the University of Waterloo in Canada, has done a great job of sharing realistic and healthy study advice that promotes a balance of work and leisure. Her videos are honest about the stresses and strains of the university experience, while still being motivational and enjoyable to watch.
10. The StudyTube Project
A collaborative effort between some of the top student vloggers on YouTube, the StudyTube Project was created in response to the Covid-19 pandemic. Instead of vlogging their typical days as students, creators make videos covering a range of academic topics they're interested in, including introductions to geopolitics, Buddhist philosophy, economics and more.
Featured image
Image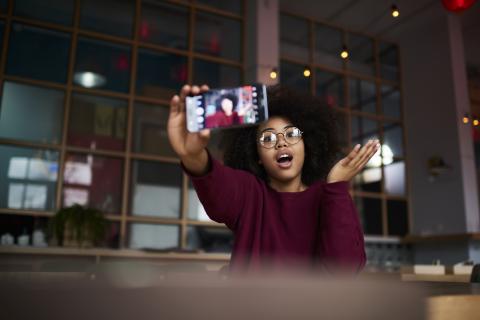 Standfirst
Unsure where to start with university vloggers? Here are 10 channels worth a watch