Setting New Year's resolutions is a great way to start the new year with some new habits and expectations. 
If you're looking to enhance and mix up your university life, these five New Year's resolutions might be just what you need to start 2022 on the right foot.
1. Aim for a balance
By this we mean a balance between studying and downtime. This is more of an ongoing resolution as your work-life balance will fluctuate depending on how many deadlines you have coming up, how many classes you are taking this year and how busy your social life is.
So one way to ensure you always have some kind of balance is with some simple planning tools. Writing to-do lists, noting down deadlines on a calendar and setting up a study timetable will help you prioritise and understand your workload. Taking some time at the start of the week is time well spent if it helps you organise your time.
Next, make sure you plan some time during the day, even if it is just an hour, to pursue a hobby, have some downtime or socialise with a friend. It can be very easy to let that slip when the university work mounts up, but you'll just feel burnt out if you spend all your time working and not enough time resting. 
This article on how to manage your time as a university student has more great tips to help you do this. 
2. Develop your network
One of the best parts of being at university is the opportunities to meet people you wouldn't usually be able to meet. As well as connecting with your fellow students who have lots of different perspectives to share, take some time to chat to your professors, as they may have some interesting advice and information that may not be conveyed during a lecture.
Networking is a brilliant skill to develop and the more you do it, the easier it gets. If you need a little help you get you started our article on how to network as an international student is a good resource. 
3. Learn outside your lectures
If you're beginning to think about your career after graduation (which you should be doing throughout your time at university, really) then it's worth knowing that employers are always looking to see what you've developed or achieved outside your lectures. 
So make 2022 the year you enrol in that online course, get a summer internship, take part in a volunteering programme or join that society. There are so many things you can do outside your degree to enhance your time at university and to boost your employability after you graduate.
If you need some inspiration, these tips on learning outside lectures or these student blogs on the benefits of joining a society are worth reading. 
4. Explore your local area
Something that you may not have been able to do as freely as you might have wanted in the past year is explore your local area. Depending on where you were studying you may have been in and out of lockdowns, had to adhere to social distancing protocols and limit the number of places you visited beyond your university campus. 
While there is no guarantee that 2022 won't bring more of the same, if you are able to, spend some time exploring the city or town you are based in. A big draw of studying abroad is the opportunity to discover a new place so spend some time checking off some of the key attractions and sights in your area. 
We have some great tips for students studying in Toronto, New York, Sydney, and London to get you started, and many other country guides.
5. Find new ways to learn
Learning doesn't have to take the same format all the time. Sitting down and making notes from a book is, of course, a tried and true method of learning but there are so many different ways to learn that maybe 2022 is the year you try something new.
If one of your set texts happen to come as an audiobook why not listen to it while you're out for a walk? Or create a study group with some friends and create flash cards to teach other about your courses. For more ideas on different ways to learn check out this article on some unusual study techniques.
Featured image
Image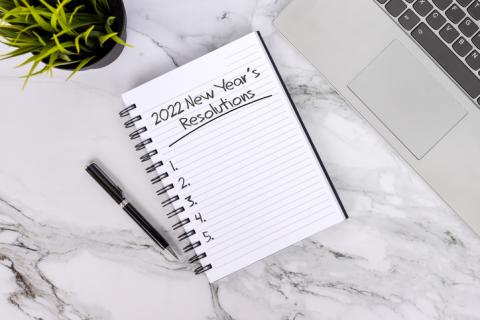 Standfirst
New year's resolutions don't have to be daunting – small tweaks to your learning and daily routine can make a world of difference