A lot has changed since the world first went into Covid-19 lockdown in March 2020. For university students, one of the biggest changes has been the significant disruption to campus life.
As many universities start to open up to face-to-face teaching many students are heading back to campuses for the first time in a long time. Some of you may be keen to get back to campus, while others may be more apprehensive – and both these feelings are justified.
Here are a few things to keep in mind as we adapt to these changes. 
Everyone will feel different and that's OK
The crucial thing to remember as you go back to campus life is that everyone's experiences and expectations will be different.
Some of you will have been on campus with in-person teaching for some time and may be either welcoming or fearful of the imminent rise in numbers. Some of you will be itching to get back to campus; others may be feeling anxious about it.
Some of you will have been shielding because of health conditions and these conditions may still present significant concerns. Some of you may have disabilities for which remote learning has been helpful and may be concerned about how your needs will be met in the return to face-to-face teaching. 
Others may have found that remote working reduced your engagement because of a disability and may be worried about how you will re-engage now.
Some of you may not have been in the same country as your university for the past year and now worry about the challenges and stigma attached to returning international students.
This is just a selection of the many possible thoughts and experiences during this period of transition – these are completely normal. It's important to understand your own feelings and then try to be aware of others' feelings too.
---
Tips for studying online and at home for university students
Why it's OK if you aren't being productive right now
How to manage your mental health when the world feels uncertain
How to manage your time as a university student
---
Give yourself time
Processing any significant change takes time and many of us will do this in different ways. 
Some people want to resume their lives that they feel have been put on hold. Others have perhaps enjoyed the slower, reflective pace of life and want to continue living this way. Both are totally understandable positions.
However, reflecting on loss, trauma or hardship cannot be done in just a few moments and our ability to process this will fluctuate over time. One moment you may feel fine and the next feel anxious about something else. It may surprise you how easily you return to some aspects of "normal life" and how difficult others will be.
It is important to remember that in times where nothing seems to be normal, feeling lots of emotions at once is completely normal. What is "normal" has changed, and some of these changes may be permanent.
Look after yourself and each other
You don't know what everyone else is going through so don't assume that everyone else is fine and you are the only one who is nervous about the changes.
If there is one thing this pandemic has shown us it is that we all respond to major changes differently. While some people have been raring to get out and about, others may be taking slightly more cautious steps into socialising.
And you may have differing views to others around mask-wearing, vaccination and social distancing, which may cause disagreements.
Take the time you need to understand what works best for you as things start to change. This will be an ongoing process, so take your time and don't feel pressured to make changes just because people around you are.
Don't be afraid to turn down invitations you don't feel ready to accept. Friendships may need a settling-in period, but if there's a time for people to understand that it's now. 
If you are feeling uncomfortable or unsure about any aspects of  returning to campus life, reach out to your university and speak to them about how they are implementing a safe return to campus and what measures will be in place.
If you are an international student travelling abroad to your university, keep in close touch with your institution on what you need to do before you arrive, travel requirements and how you will be supported when you get to campus. 
Be kind to friends or peers who look a little nervous, give people time to adjust and ensure that you use the support available to you at your institution, whether that be emotional or academic.
Featured image
Image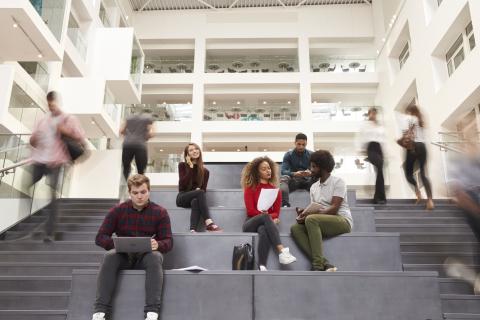 Standfirst
With universities beginning to reopen for face-to-face learning, Leeds Trinity University's head of student support and wellbeing offers some ways to manage your feelings around this