The Times Higher Education Impact Rankings highlight the important role that universities can play in tackling the United Nations' Sustainable Development Goals (SDGs). The 17 SDGs cover a range of global issues, from climate action to gender equality.
You might be interested in studying at a university that is more "sustainable", but what exactly is a sustainable university? And what does it mean for you as a student? 
Universities contribute to sustainability in many ways. The most obvious are through their direct impact on energy and water use, waste and biodiversity. However, significant indirect impacts also include food options on campus and how staff and students travel to and from university and for business.   
Universities can contribute to sustainability through their activities, from the research carried out and educational programmes and opportunities available to students to engagement with businesses and local communities. 
League tables
Numerous league tables, accreditations and awards relate to sustainability in higher education. League tables include the UI GreenMetric and THE Impact Rankings. Accreditations include environmental management standards such as EcoCampus, Responsible Futures and Green Impact. 
League tables and accreditations each take into consideration different criteria, from estates' performance data and environmental policies to sustainability education and research.
However, universities are very different, and it can be difficult to compare the environmental performance between a city university and a rural campus university, or a teaching-intensive versus a research-intensive university, for example. One thing you can do is compare institutions across league tables and accreditations to see which universities crop up the most often. 
Another thing to check is which universities have declared a climate emergency. 
---
How to make an impact in the world as a university student
The student guide to sustainability
Sustainable six: tips to becoming a greener student
Fighting food waste and inequality as a student in the US
---
Learning about sustainability beyond the league tables 
If you want to learn more about sustainability beyond the league tables, ask if it is embedded in your chosen degree. The more staff hear students ask about whether sustainability is embedded, the more likely it will be that courses will be adapted to include it. 
There might be other modules or courses you can study alongside your main degree, from other faculties. If staff are involved in sustainability research, then it may be more likely that this is included in your degree.
Talks often bring in experts from outside the university and are open for anyone to attend. See if you can find out about past programmes and speakers to get an idea of the kinds of talks and sessions around sustainability that might be available when you attend. 
Have a look at a university's communication around sustainability, and browse the university's website and social media pages. Most universities will have sustainability-focused web pages or social posts, and these will be a great source of information about what is really going on.
Many universities also have big sustainability projects running or may talk about using their campus as a "living lab", as a trial of new sustainable solutions, and these may be integrated into research and education programmes.
What might be important to you is the opportunity to meet other students with an interest in sustainability and the opportunity to get involved with practical projects that are driving real change, or to drive your own projects.
See what you can find out. Maybe contact the students' union or student association, or research which clubs and societies focus on sustainability or climate action. You might want to find out what support is available to help you get projects running, or how to navigate the people, policies and structures that are often needed to make change happen.
Research opportunities to take on paid work as a student sustainability intern or similar roles. These sorts of opportunities won't easily be reflected in league tables, so you might have to dig a bit deeper to see what is available, and to get a feel for the culture of sustainability at the university.
More and more universities are waking up to their role in a more sustainable future, and the importance of sustainability to students. If sustainability is something you are passionate about, and you want to be part of driving positive change, you can use these tips to build your decision of where to study.   
Featured image
Image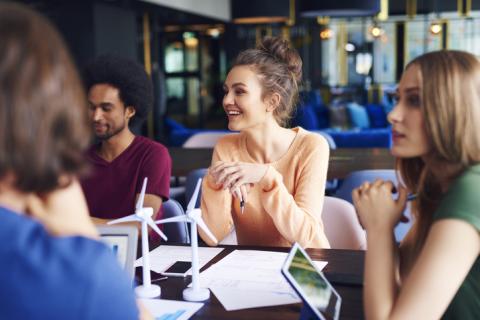 Standfirst
For many students, sustainability is an important factor when choosing a university – but how do you know exactly how sustainable a university is? A sustainability professor shares her tips