Summer is the perfect time for students to unwind and relax after exams. However, it is also a great time to learn a new skill and get ahead of the competition.  
When it comes to university applications, admissions officers love to see extracurricular interests from their candidates. There are many ways that you can use your summer to boost your application, and we have listed some of them below 
You could learn a new skill 
Summer break comes with a lot of free time so why not use that time to learn a musical instrument, start a new hobby or take up a new sport. There are so many different skills and hobbies that you can learn and it could be something that you then continue once you get to your university. 
Reading and writing are two skills that you will use a lot at university. Reading is a great way to relax and writing is a fun way to record everything that happens over the summer. Students can keep diaries, find writing prompts online for creative pieces and can use platforms like Brill Assignment to practise their academic writing. 
If you are about to study abroad, another way to use your summer productively is to learn another language. Although you may not be fluent by the beginning of university, you will have the basics of grammar and pronunciation that will help as you begin your studies in another country. 
Life skills like cooking, cleaning and organisation are often an area where students struggle when they begin university life. Why not use the summer to practise some recipes, learn the best (and cheapest) ways to keep your dorm clean and begin organising your time to start university prepared? 
You could explore 
Explore your local area during the summer holidays. Concerts, art galleries, museums, exhibitions and nature are all ways to make the most of where you live. 
If you can travel, why not check out the country you are going to study in, visit a friend abroad or go somewhere you've never been before? You may find a new favourite place, be inspired by what you see or even experience something that helps you choose what you want to do after university. 
You could work
Lots of students use the summer break to earn some money before university.  
Summer work can lead to new friendships, on-the-job experience, financial gain and increased independence. Local papers and community websites often advertise summer positions for students in a range of industries.
---
Tips for finding student accommodation 
Everything you need to know about student societies at university
Five things you hadn't thought to prepare for as an international student 
---
You could volunteer in your community 
Engaging with your local community is a great way to gain some experience and develop new skills. There are a wide range of opportunities to serve the community including: 
Volunteering at a nursing home, hospice, or hospital. 
Taking part in charity events (sponsored walks, bake sales, performances). 
Improving the local area (litter picking, planting, building). 
Taking care of animals (animal shelters, adoption centres, veterinary assistance). 
Helping the homeless (spreading awareness, serving food, teaching a skill). 
You could complete an internship 
Internships are a way to learn about a specific industry and start building up your CV. Platforms like Talerang regularly connect students with professionals to secure internships and work experience in corporate settings. Equally, businesses you are already interested in may post about internships on their website and you can reach out to them directly to see what opportunities they have.  
An internship will allow students to: 
Experience the environment in a real work setting. 
Participate in the field they want to pursue. 
Identify possible areas of interest or specialisation. 
Build motivation and confidence in themselves. 
Build a network of contacts in the industry. 
You could study at a summer programme 
Taking a summer programme at a university will help you learn new skills, explore a new area, make friends and experience what it is like to live on a campus. 
Some programmes offer open enrolment where anyone can sign up. However, others have an admission process. Like university, these courses are popular and can fill up quickly. Most of these programmes take place over a set time period ranging from a few days to ten weeks in some cases. The cost of these programmes also differs depending on the length. 
You could complete an online course
It is not always possible for everyone to attend summer programmes in person, so online courses have been designed to allow students to explore new topics. Depending on where these courses are offered, they will range in price and duration. Some platforms offer courses for free to introduce topics and others will charge for a more in-depth programme. 
These courses can be in anything from an introductory topic to a speciality course. Students can find a range of courses on university websites, for example, Yale University currently offers an introductory course to psychology for anyone interested in studying the topic for their degree. Alternatively, platforms such as Coursera offer thousands of courses often with discounted prices. 
You could pursue a research project 
Pursuing a research project will prepare students for university independent study and provide an advantage for later work in their degree.  
Platforms such as Scholarly allow students to connect with experts in their chosen field to elevate their research and provide perspective. 
Whatever you choose, there are many ways to use your summer productively and begin university as a highly skilled and prepared individual. 
Featured image
Image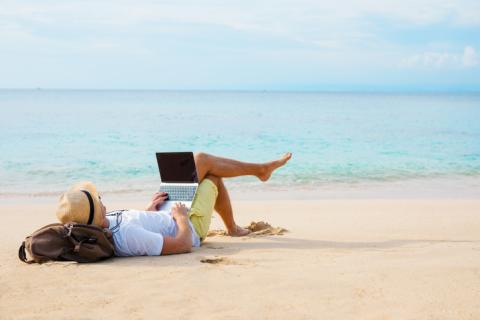 Standfirst
As you prepare for university, you may be wondering how you can use your summer in a productive way? Whether you want to learn a new language or complete a summer internship, there are many ways to enhance your skills during the summer break.