The UK is a popular choice for students from all over the world and is home to some of the most global prestigious universities.
Preparing to study in another country can be exciting, but it can also be daunting at times. There is lots to prepare for and think about, especially when it comes to funding your studies. It's important to research funding options before you arrive so you can avoid any costly mistakes. Here is a rundown of everything you need to consider when planning how to fund your studies.
What costs do you need to consider?
Average tuition costs for universities in the UK
International students can expect to pay between £10,000 and £38,000 annually for lecture-based undergraduate degrees at universities across the UK. An undergraduate medical degree can cost an overseas student up to £65,000 per year.
Fees, which should be clear on your university's website, will vary by subject and course length. MBAs tend to have the highest, premium rate, fees.
The UK tends to have two fee levels: a lower "home" student fee and a higher "overseas" student fee. Whether you pay a home or overseas fee depends on whether you meet certain criteria. If you think you may qualify for home fees, contact your chosen university's admissions team for clarification. You will probably need to complete a fee assessment form and provide evidence of your eligibility.
It's worth researching if the tuition fees for your course are fixed, or if they will increase each year if your course is longer than 12 months. Some universities have fixed tuition fees, but others may increase them in line with inflation.
Course materials
University websites will often specify if your course has any related costs, such as field trips or research expenses for postgraduate courses.
Textbooks can also be expensive, so check your reading list when you can, consider buying second-hand books and investigate any apps that could help you, such as Perlego or Kortext.
Many students buy laptops when going to university, so this is a purchase you may need to consider.
Living costs
These will vary based on the UK region in which you study and the lifestyle choices you make. Most universities will have information on average living costs for students. This will include accommodation (private housing or university halls of residence), groceries, utilities, insurance, transport, mobile phone, clothing and entertainment.
When you are looking at costs, particularly at university-owned halls of residence, bear in mind that some student accommodation is in great demand and may be heavily oversubscribed, so you may need to rent privately instead.
Private accommodation is not always the cheapest option, but it is sometimes necessary, especially if you are planning to move over with family. Private accommodation may appear less expensive at face value, but that's often because utility costs (gas, electricity, water and internet) are not included, and you'll need to cover these yourself. These utility costs are usually inclusive in university-owned halls.
Immigration-related costs
Many international students will need a student visa to study in the UK, which requires an upfront payment. Make sure you are aware of all the application-related costs, including the Immigration Health Surcharge. As part of your visa application, you may also need to share bank statements or financial guarantee letters to show that you have enough funds available to cover your living costs.
Remember, nearly all UK universities offer free immigration advice via a team of specialist international student advisers, so make use of this service if you need help. UKCISA also has a range of up-to-date information and guidance in this area.
Other important costs
Deposits for accommodation. If you're renting privately, these can be significant, in some cases up to six months' rent.
A deposit for your course, which will usually be part of your tuition fees.
Flight and travel expenses.
Any pre-arrival Covid-19 tests or quarantine hotel costs.
You should also keep in mind any currency conversion fluctuations, which may change throughout your studies. OANDA is a useful tool for this.
How can you fund your studies?
UK student finance
UK government student loans tend to depend on residency, so many international students are ineligible for them.
Find out more about what options are available in each of the four UK countries: England, Scotland, Wales and Northern Ireland here.
Family and savings
Most international students in the UK are self-funded. Any money you currently have coming in will count towards your income, and that includes any funds you can save, as well as any funds that parents and relatives are able and willing to provide.
Part-time work in the UK
Between your lectures and the time you spend studying independently, you may need to make time for a part-time job. Getting some work while in the UK is a great way to enhance your experiences of the UK, as well as top up your income.
Find out more about work opportunities from the careers team your university, and before arriving do some research on what part-time jobs are available. Universities will also have some information on the UK national minimum wage and national living wage rates and tax.
You should also look at the rules your university has on the number of hours students should work during term time and ensure that you understand any limits on part-time work as part of visa-related conditions.
External scholarships
While the UK government and universities do offer scholarships, don't count on getting a full scholarship that covers all tuition and living costs. Most scholarships will cover only a percentage of the total cost of study.
Scholarships are usually highly competitive and often aimed at postgraduate students. Undergraduate scholarships are rarer, although a number are offered by UK universities and colleges. In most cases, you will have to gain an offer of a place on a course at a UK university before you are eligible to apply for any scholarship.
That being said, it's always worth exploring what you may be eligible for. Here are some useful resources:
University scholarships
Lots of universities offer fully funded postgraduate studentships. You can learn more from your chosen university or from specialist websites such as Postgraduate Studentships and Prospects, or you can check out THE Student's list of scholarships for international students in the UK.
Make a budget
Once you have a good understanding of your costs and income, the next challenge will be to make a budget. This doesn't need to involve complicated spreadsheets and formulas, but it must be honest. Here is a guide on how to create a budget as an international student.
You should plan for an additional year's worth of living costs, not just the first year of your course. This will help you to see how careful you need to be with your finances for the duration of your course, and whether you will need some savings for later down the line.
There are plenty of sources of advice, including friends and acquaintances who have studied or are currently studying overseas, universities, education agents and the internet. You can never do enough planning. This is a big investment for you, but doing your research now will pay off in the long run. Best of luck!
Please note that all costs and conversion rates were correct at the time of publication. These may vary over time.
Featured image
Image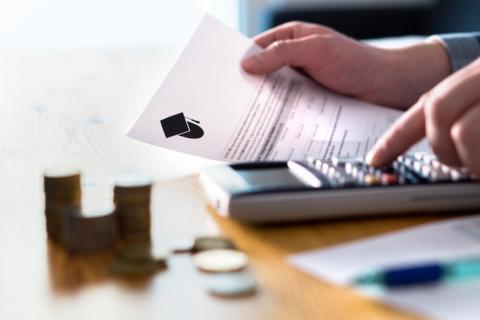 Standfirst
If you are an international student planning to study in the UK, this guide will help you understand how to fund your degree and the different funding options available