Moving to a different country on your own is always a difficult step. Leaving the city you grew up in, adjusting to a new culture and living alone are some of the biggest problems Indian students face when moving abroad for the first time.

Based on the questions that Indian students ask the most, we have curated a list of FAQs that should provide a template for both general and academic life in the UK.

The questions asked can be divided into three main sections – academic questions, job search, and accommodation.
Academic
1. How is academic learning different between UK universities and Indian universities?
Learning at UK universities tends to lean more towards practical knowledge and applying concepts and theories. Students are not required to learn complete course-specific books and lecture materials handed out by teachers.
Instead, tutors recommend extensive academic sources and ask for references in your assignments. There tend to be more lab-based activities for engineering and science courses.

Grading is more focused on multiple small assignments and examinations concentrating on small topics in-depth, instead of all-encompassing year-end exams. There is also more choice and ability to customise your courses by choosing modules in the subjects and topics that you want to specialise in.
2. What are the general assessment methods and grading systems in UK universities?
Undergraduate degree courses usually run three years. This can be longer if studying an integrated master's, a sandwich programme with practical work and coursework, or if you are studying medicine and or health sciences, which require you to undertake a series of clinical placements.
The final grade for an undergraduate is usually done as first, upper-second (2:1), lower second (2:2), third class, pass and fail. Achieving a third or above is counted as a bachelor's degree with honours.

At the postgraduate taught master's level, most courses are one year long and are heavy on coursework, with two to three exams per year. The coursework is generally assessed on the basis of originality of work, application of concepts and ideas about the practical uses for the same, and ability to identify relevant information from a vast score of research papers.

Plagiarism is frowned upon greatly at UK universities. The penalty for plagiarism could range from a simple reduction in marks and/or having to rewrite the assignment to possible removal from the course.

3. What is the usual term time for Indian students?
General term time for September intake consists of the following parts:
September-December (term one): term to settle in. Constitutes a fair bit of revision, and universities go over the prerequisites needed to understand the course.
January-March (term two): main teaching term. The highest amount of coursework, and there may be some exams.
April-June (term three): exam term. Most exams and final project assessments occur during this term.

4. I do not have experience in writing essays or coursework. How complex or different would the final dissertation be?
It is necessary to build up the skills to write essays and complete coursework because they may make up part of your final grade.

Certain services and workarounds can write papers for you, but these are deemed illegal; if it was found that you used one, you could face being removed from your course. It is also detrimental to your progress as a student because they don't aid your learning in any way.

Most universities' career departments and your course's academic leads would be happy to assist with ways to build up such skills, and you can always speak to tutors and your course mates if you need some help with writing essays.
---
Scholarships for Indian students to study abroad
International perspective: an Indian student in the UK during the Covid-19 pandemic
From India to the UK: a checklist for international students
Everything international students need to know about UK student visas
---
5. Is it easy for Indian students to come to the UK to study?
The process to apply to study in the UK is a reasonably lengthy but well-structured one. Students can apply to most universities through Ucas (available for both undergraduate and postgraduate courses), a centralised application portal that allows students to submit their personal statement and certificates and also rank their university choices.
This is also the portal that allows you to communicate with universities. Students can upload their required documents and will then hear back from the university with offer or rejection letters (and any conditions that come with them). Higher-ranked universities and particularly competitive fields would also require a screening process (interviews and entrance tests), which are organised by the university.

After receiving the offer letter and completing the conditions, students receive a Confirmation of Acceptance for Studies, or CAS, letter, which officially confirms their university place. This is issued only 90 days before the start of term and is required to apply for a visa. The visa application process can take anywhere between two weeks and two months. The cost of the visa application changes every year and is decided centrally.
Most Indian students will also need to take an English language test to support their application, so it is important to check the requirements for this. 
 
Most universities offer scholarships and financial hardship funds to subsidise education based on merit and/or economic hardship, too. Information regarding these can be found on the university websites or the UK government website.
Job search
1. Are Indian students allowed to work in the UK?
Absolutely – Indian students may work in the UK as part of the Tier 4 visa rules. This requires a National Insurance (NI) number, which is needed for administrative and taxation purposes. This number is sent to all UK residents shortly before their 16th birthday.

For Indian students, the code can either be found printed on their biometric residence permit (BRP) or has to be acquired by applying to the Department of Work and Pensions (DWP).

Students can also start work without a NI number if they are able to prove that they have the right to work within the UK. This can be done by means of a right-to-work share code that can be obtained online through the government portal.

2. What types of part-time jobs are available to Indian students?
Students coming into the UK on a Tier 4 visa have a weekly limit on the number of hours they can work, with it being capped to 20 hours a week during term time. Students can undertake full-time roles (that is, more than 20 hours of work per week) during their holidays.

Most jobs are open to students, but Tier 4 visa holders are not allowed to undertake the following (non-exhaustive): play/coach at a paid job, specialised jobs, self-employment and the setting up of businesses (entrepreneurship).

3. How much money do part-time jobs pay?
Students can get paid at varying rates depending on the job and the employer. The government sets a minimum payment rate, which the employer cannot breach. This is called the minimum wage and is defined on a per-hour basis.
The minimum wage at the time of writing of this article are:
£6.56 per hour for ages 18-20
£8.36 per hour for ages 21-22
£8.91 per hour for ages 23+.
The rates are revised on 1 April every year.

4. How do I apply for a part-time job?
Because there is quite a lot of competition in the part-time job market, it is beneficial to apply to a variety of roles at multiple places. Most students tend to work at restaurants, supermarkets or in retail outlets.

Most jobs will require a CV and, perhaps, a cover letter. These should be up to date and completed according to the skills necessary for the job you are applying for.

University career services offer help with career fairs, CV-building workshops and tools, and general job counselling. The Indian National Students' Association also holds job fairs, and it recently had the first Forum Day in 2021. The event was a significant success and enabled attendees to get direct jobs from employers.
Accommodation and general life
1. How much rent do you pay if you are not living on the university campus?
Rents vary by location and are highly dependent on the city and area of your choice. Prices tend to increase as you move towards the city centre in most urban areas; they are higher in the south in cities such as London and Bristol compared with Newcastle and Manchester, which are further north.

Private accommodation and individual housing tend to be the popular choice because they are more cost-efficient than university accommodation. However, university accommodation has certain perks, such as the inclusion of bills and internet services, which may offset the pricing.

2. Is it easy to find off-campus accommodation once you reach the UK?
Off-campus accommodation is not difficult to find, but the pricing may change as the year progresses. Accommodation found during November/December would be cheaper than that found in January/February because students will secure houses and flats at reasonable prices early on.

3. Do students get any discount on rent in off-campus accommodations?
Students do not get a "discount" on rent off-campus. In the case of university accommodation, the university can make decisions and, in some cases, may refund fees (such as accommodation fees for the third term that were returned to me by my university in 2019-20 during the initial Covid-19 outbreak).

The onus for offering a discount in private accommodations is up to the landlords, so it is rare to get a discount. However, private accommodation can work out cheaper than university accommodation when things such as bills are taken into account.

4. Any points of caution when choosing an off-campus accommodation?
Choosing off-campus accommodation is the closest students get to complete adulting! It is a great skill to learn and will be necessary later on in life.

While looking for an off-campus property, it is necessary to identify the accommodation's EPC rating (a measure of its energy efficiency), location and public transport connectivity. These can offset your savings through higher energy/gas bills, transport costs and general convenience.

It is also necessary to check whether or not the neighbourhood is safe and how close it is to amenities such as grocery stores, medical clinic/hospital and public transport.

Students are encouraged to go for in-person viewings and to note down visible defects in rooms. Most virtual viewings use a fisheye lens, making rooms appear bigger than they are. Faults need to be pointed out and documented before you move in, otherwise a landlord may hold your deposit if they think you caused the fault.

An excellent way to compare the bills for the house can be to check with the previous residents and adjust their usage to yours. Adding those costs to your monthly total will enable you to see if you are saving compared with university accommodation.

4. How do I access healthcare services while in the UK?
Indian students are covered under the NHS (National Health Service) via the Immigration Health Surcharge, which is a fee paid alongside the visa processing fee. This entitles students to the full range of healthcare offered by the NHS.

It is recommended to register with a GP (general practitioner) in your area in order to access primary care, and to serve as the first point of contact for any physical and mental health concerns. Most universities have a university surgery or health service that it recommends to students. It is beneficial to join such a service if you live in an area serviced by them; otherwise, the best option is to join the closest GP service.

5. Can I find good Indian food in the UK?
Finally, the big money question! The short answer to this is "yes", students can find good Indian food in the UK. The British fascination with Indian food has led to the advent of multiple curry houses and Indian restaurants in every corner of the country.

Whether or not the food in question is authentic, however, is up for discussion. You might wish to ask students who have previously lived in the city for their recommendations on the food that tastes most like the dishes you get at home.

In bigger cities with larger Indian populations, such as London, Birmingham, Leicester and Manchester, there will likely be a dedicated area where you can find the best Indian restaurants. There will also be a range of Indian grocery stores where you can pick up pulses, spices and traditional ingredients, should you wish to cook at home.

Most cities offer a great variety of Indian cuisines, too – with some serving up a traditional thali, some focusing on dosas and South Indian food and others offering a more fusion-based menu. Most restaurants have a selection of non-vegetarian, vegetarian and even vegan offerings.
Ready-to-eat Indian meals and takeaways are also readily available in grocery stores and can be absolute lifesavers for late-night cravings even if they aren't exactly like the real thing.
---
The Indian National Students' Association is a voluntary student-led mission aimed at helping Indian students within the UK. It understands these issues and hosts regular webinars and FAQ sessions to provide information and support.
Featured image
Image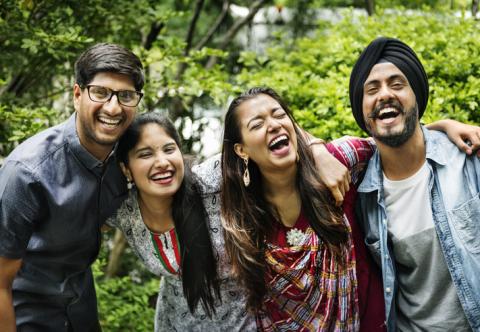 Standfirst
How easy is to study in the UK as an Indian student? How do I apply for a visa? Can I find good Indian food in the UK? This guide answers all the questions Indians ask about studying in the UK