University is a learning curve in more ways than one. While it's natural to focus on the academic side of things when applying for university, once they arrive on campus many students find themselves wishing they'd spent some more time on practical skills.
A recent survey from Ivory Research found that 64 per cent of students in the UK had never done laundry, 53 per cent had never gone food shopping and just under half had never practised cooking before going to university.
While studying and socialising may be top of your list of things to spend time on at university, getting these basic skills under your belt are crucial to living independently and looking after yourself.
Here are five essential practical skills to learn before starting university.
---
---
Cooking
According to the survey, 46 per cent of students had never practised cooking before university.
Learning a few easy, cheap recipes before you arrive on campus is a great way to prepare for university.  
Eating well is crucial to your mental and physical health and not relying on takeaways – tempting though it may be – will help keep costs down. Cooking a meal you're used to from home can also be a great comfort during periods of homesickness, especially when shared with friends.
Spending a couple of hours on a weekend planning and cooking your meals can also set you up for a productive and balanced week, particularly around busy exam periods. Check out these five steps for eating well at university or these eight meal-prepping hacks for students to get you started.
---
University survival pack: tips for studying, socialising and budgeting
Ultimate guide to moving to university
What do you wish you had known before you started university?
Five ways to make friends at university
Real-life tips on surviving your first year at university
Top 10 university hacks from some of the UK's most successful students and graduates
---
Driving
In a THE Student Instagram poll asking international students what they wished they'd learned before starting university, lots of responses were about driving.
Although driving isn't totally necessary as a student, it can be useful for moving into and out of halls and exploring the country or area you're studying in.
If you're an international student with a licence from your home country, you'll probably need to apply for an international driving licence or a licence for the country you're studying in.
In some cases, you may have to retake a driving test according to your study destination's national standards, so be sure to look this up before arriving. If you are planning on driving at university don't forget to check which side of the road to drive on!
Keeping a budget
One very common practical skill that students need to learn when living independently for the first time is how to manage their money.
For international students, this often starts with setting up a bank account for the country you'll be studying in. For advice on this, check out our guides for setting up student bank accounts in the UK, US, Canada and Australia.
Between student loan payments, sporadic bills, ad hoc jobs and grants, keeping a budget as a student can be a challenge, but getting organised around your finances is a crucial to avoid unnecessary stress.
THE Student has lots of guides to help you stay on top of your money at university, so it's worth exploring a few different techniques to find what works for you.
You might try drawing up your own budget using an interactive budget planner, or you could try out one of these apps for managing student finances, some of which will set money aside for you as part of your day-to-day spending.
---
---
Doing laundry
With 64 per cent of students in the Ivory Research survey admitting to never having done their own laundry, and a further 73 per cent never having used an iron, many students are yet to master the art of not running out of clean socks. 
In most student halls of residence, you'll find a laundry room with coin-operated washing machines, so it's useful to set some change aside for this. For learning to use specific washing machines, YouTube is your friend. Many universities will also assign student helpers during freshers' week to show you around your campus or halls, so take advantage of this to get a quick tutorial.
Time management

                                                                
Studying at university is often far more independent than at school, and you'll probably be more in charge of your own time than you ever were before.
Time management is really the skill of balancing all the above skills while also staying on top of your studies and social life.
If that sounds like a challenge, that's because it is. Many students struggle to get into a routine that gives them the perfect balance, even if YouTube is populated with seemingly perfect morning routines for students.
The key is making sure you're realistic with what you can achieve in a day and not being too hard on yourself if things don't go to plan.
If time management is something you struggle with, check out this THE Student guide on how to manage your time at university.
Once you arrive on campus, you will also have access to student support services that can guide you in balancing everything while looking after your mental health. These services are there to help you, so don't be afraid to reach out.
Talking to your classmates, studying together and advising each other can also be a great help. 
Featured image
Image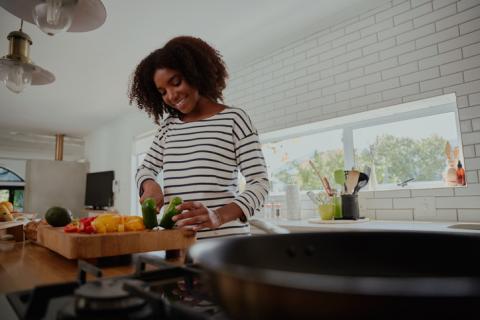 Standfirst
You've got the grades but what about practical skills? Here's five essential things you should know how to do before leaving for university