Despite being a small island nation with just a handful of universities, New Zealand is an increasingly popular destination for international students.  
New Zealand is a member of the Commonwealth, with lasting ties to the UK. English is the nation's first language and the standard teaching language in its universities. 
The country's distinct culture has also been strongly influenced by the native Maori people of the island. Many of New Zealand's cultural traditions come from the Maori people, including the traditional "haka" performed at the start of New Zealand's rugby games. 
As the filming location for the Lord of the Rings movie trilogy, New Zealand is known for its stunning countryside but there are also some great cities, including Auckland, Christchurch and Wellington. 
New Zealand is home to only eight universities: the University of Auckland, the University of Otago, Auckland University of Technology, the University of Canterbury, Victoria University of Wellington, the University of Waikato, Lincoln University and Massey University.  
All eight of the country's universities rank in the Times Higher Education World University Rankings 2021, with the University of Auckland ranking among the top 20 most international universities in the world. The country is known for its strong postgraduate opportunities and high quality of education.  
Below is a guide on all the things you'll need to consider if you're interested in studying abroad in New Zealand.
How do you apply to study in New Zealand? 
New Zealand does not have a centralised university application service, meaning you apply directly to your chosen university. You can do this online or by post.  
In New Zealand, the academic year begins in late February or early March and finishes in November. Most universities in New Zealand operate on a semester system, with two terms per year.  
You'll often have the choice to start your course in semester one, beginning February or early March, or semester two, beginning in July. If you're applying to begin a course in semester one, application deadlines will tend to be October earliest, but some stretch to November or December.
To start in semester two, your deadline will be in March, April, May or early July. Make sure you check your chosen university's website directly for its specific deadlines.  
Do I need to do a language test before studying in New Zealand?
There are no English language requirements to apply for a student visa to New Zealand, but most universities will require proof of your English-speaking ability before offering you a place.
The most popular English language proficiency tests for international students include the IELTS Academic, the TOEFL iBT, the PTE Academic and the Duolingo English Test (DET). Many institutions are also accepting the IELTs Indicator where students are unable to take the IELTS Academic in person due to Covid-19 restrictions. The cost of these tests ranges from £40 to about £200.
Most universities in New Zealand will accept one of these tests, but test score requirements will vary between courses and institutions. Contact your chosen university directly to find out its expectations. 
You can also use this guide to English language tests to help decide which test is best for you and what average scores may be expected.  
What's the cost of studying in New Zealand? 
The main costs you'll need to consider as an international student are tuition fees, accommodation costs and living expenses.
Tuition fees for international students in New Zealand vary depending on your university and course choice.
On average, an international undergraduate student can expect to pay between NZ$22,000 (£11,535) and NZ$32,000 (£16,778) per year in tuition. There may be higher fees for certain subjects, such as medicine and veterinary science.
New Zealand citizens do not have to pay tuition fees for their first year of university, but this is not applicable to international students unless you have already been living in the country for three or more years before enrolling.  
For postgraduate degrees, international fees range from about $26,000 to $37,000, again with higher fees for certain subjects.  
A PhD programme for an international student can cost between $6,500 to $9,000 per year for most subjects.  
As well as tuition fees, some universities will also charge administration and student services fees; for example the University of Auckland charges students $943 per year. This will vary across universities so make sure to research this and budget accordingly.  
Universities New Zealand provides a useful guide to tuition fees in New Zealand, including a cost comparison tool. 
Accommodation costs will vary depending on location and personal preference, so it's best to do some more research based on your own circumstances and university area. You could stay in student residence halls (NZ$200 per week, on average), a shared flat (NZ$120 per week) or a private flat (NZ$180 per week). 
Essential bills to consider include phone bills, which average at NZ$20 per month, internet at about NZ$70 per month (but can be split between tenants) and around NZ$100 per month for utilities such as gas, electricity and water.
Health insurance is a visa requirement in New Zealand and is reasonably affordable even for international students. StudentSafe is a popular provider among students and offers health and travel insurance for about NZ$590 per year.

You'll also have to budget for entertainment and leisure. Costs of eating out and socialising will vary between areas, but a meal out in New Zealand will cost around NZ$20 on average, a beer will cost about NZ$9 and cinema tickets are about NZ$15 each.   
Best universities in New Zealand
Scholarships for international students in Australia and New Zealand
Everything international students need to know about student visas in New Zealand
10 things every international student should know about studying in New Zealand
The cost of studying at a university in New Zealand
International perspective: a Sri Lankan student in New Zealand
University life in: New Zealand
What scholarships are available for international students in New Zealand? 
Scholarships for international students come in various forms. Government scholarships are generally focused on providing for students from certain countries. Scholarships based on financial need or academic merit, as well as partial bursaries and grants, are available at university level.
Scholarship opportunities will often be highly competitive, especially for a small country like New Zealand, but they are always worth exploring thoroughly.
Some examples of scholarships for New Zealand include:  
New Zealand International Scholarships – The New Zealand government offers full scholarships to study full-time in New Zealand.  
University of Canterbury International First Year Scholarships – the University of Canterbury offers this scholarship to high-achieving international students starting an undergraduate degree.
University of Auckland International Student Scholarship – valued at NZ$10,000, this scholarship gives high-achieving students the opportunity to study at the University of Auckland.
Victoria Master's Scholarships – Victoria University of Wellington provides scholarships for full-time research-focused master's degrees. The scholarships include a NZ$15,000 stipend plus domestic fees. 
This useful search tool on the Education New Zealand website also lets you look for scholarships depending on your subject and study level. 
How do I apply for a study visa in New Zealand? 
The most common visa for international students applying to study full-time in New Zealand is the fee-paying student visa, which you can apply for through the New Zealand immigration website.
The application costs NZ$295 and you will need to provide a range of supporting documents. These include your acceptance letter to an approved educational institution in New Zealand and often a medical certificate and police certificate (criminal record) which are likely to come with their own charges.
You will also need proof that you have the funds necessary to pay your tuition fees, plus NZ$15,000 per year of study to cover your living expenses.  
Student visas take about 25 days to process, so it's worth applying soon after you receive your course offer.  
Can I work on my student visa in New Zealand? 
Full-time international undergraduate students in New Zealand are usually permitted to work on a part-time basis for up to 20 hours per week in term time and full time in the holidays, while PhD and master's students can work in New Zealand with no restrictions on hours. The adult minimum wage in New Zealand is $18.90 per hour. 
However, it's always important to check your visa conditions thoroughly before taking on any paid work.  
What can I do after I graduate in New Zealand?
New Zealand offers a wide range of career opportunities to new graduates. The country has high degree completion and employment rates, and low rates of underemployment.  
If you want to stay in New Zealand after completing your studies you can apply for the post-study work visa, which allows graduates to stay and work for up to three years.  
New Zealand's biggest industry by far is agriculture, but there is also a thriving service industry, a strong focus on international trade, and growing green energy and tech sectors, providing graduates with a range of opportunities.  
If you want to continue in academia after studying in New Zealand, PhD fees for international students are reasonably low, matching the costs for domestic students. You can also use the Times Higher Education job listings to search for current academic vacancies in New Zealand.
If you're interested in applying to a university in New Zealand, you can explore all the country's universities in the table below. Click each institution to view its full World University Rankings 2021 results. 
| | | | |
| --- | --- | --- | --- |
| World University Rank 2021 | New Zealand Rank 2021 | University |  City |
|  =147  | 1 | |  Auckland  |
|  201–250  | 2 | |  Otago  |
|  251–300  | 3 | |  Auckland  |
|  401–500  | 4 | |  Christchurch  |
|  501–600  | =5 | |  Wellington  |
|  501–600  | =5 | |  Hamilton  |
|  601–800  | =7 | |  Canterbury  |
|  601–800  | =7 | |  Palmerston North  |
 Please note: exchange rates may vary over time and were correct at the time if publication.
Featured image
Image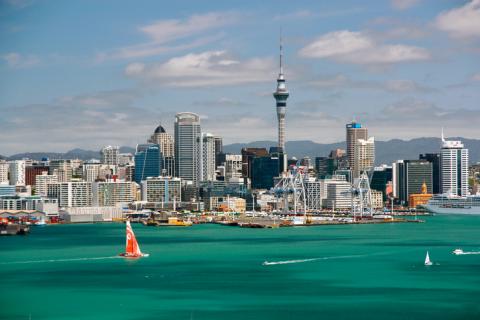 Standfirst
New Zealand is a popular study destination for international students and it really has a lot to offer. Here is a comprehensive guide on everything you need to know about studying in New Zealand