A lot of myths and misconceptions surround clearing, perhaps more than ever for 2021 entry. The pandemic has brought challenges but also opportunities, and it is important to remember that while everything may seem different, the process of applying via clearing is broadly the same.
Simply put, clearing is a way of finding a place at university. It is not a "last chance" option, or a way of getting a place at any cost. More opportunities are available than ever before, with more than 80,000 students finding a place via clearing last year. As we move closer to results day, here are my top three tips for navigating clearing in 2021. 
Clearing is another way of finding a place at university or college
Clearing covers a number of scenarios, and is not only an option if you haven't done as well as expected. You can choose to look for a place in clearing if:
You've changed your mind about the course or university where you want to study

You haven't got a place through your firm or insurance choices

You haven't applied for university or college in the "main" application cycle

Or even, if your grades are better than you expected and you want to see what other options are available to you
Thousands of university places are available during clearing, and it doesn't matter why you are making your decision to use it.
---
Ucas clearing advice from students who have been through it
Clearing 2021: UK universities with courses available
Ucas clearing 2021: will it be different because of Covid-19?
Everything you need to know about Ucas adjustment
---
Ucas Track opens at 8.30am on results day, and logging in should be one of the first things you do. Ucas shows the outcome of your university applications but will not show your results, so you will need to make sure you know how you're going to get hold of these if you want to apply via clearing.
Usually, Clearing applications are made over the phone, but check university websites to see if there are other ways to submit an application.
Make sure you have all the essentials on hand — your results (including GCSEs and any other Level 2 qualifications), your courses of interest, and a pen and paper for taking notes.
Traditionally, when you receive your results, you call the university you are interested in to see if it has places available and that's no different in 2021. You can check the clearing hotline numbers for universities now, so you're prepared for the day. However, the phone is not the only way to apply.
Clearing Plus, a matching service from Ucas, presents courses to students that they think you might be interested in. You might also be able to apply online, via WhatsApp or even via social media. Generally, the quickest way is to pick up the phone and make the call. Just make sure you're making the call yourself, as universities and colleges want to speak to you and not your family or friends. 
If you're applying for a course that requires an additional assessment, such as an interview, portfolio or audition, you will be advised about this over the phone. Medicine, nursing, social work, teacher training, art and design and drama are just a few of the courses that have additional assessments, so have a look on websites now to see if you're likely to have to take one of these.
Make sure you do your research, make the right choice for you
Finding a place in clearing is no different to finding a place in the main cycle. Make sure you do your research, to make sure it is the right choice for you.
If you apply on results day, you will not be able to accept your offer until 2pm. This gives you time to think about your options, particularly if you are holding multiple offers and aren't sure which one to accept. Read the course information online, take a virtual tour or chat to current students on university websites.
Offers made during clearing are generally followed up with an email, and sometimes these will give a time limit to accept, so read through this information carefully and make sure you know when the deadlines are.
Above all, don't feel pressured to consider a place before you are ready. Don't be afraid to call your university if you need a bit more time to think, or you just want to talk through your options – universities are flexible, and will try to do whatever they can to support you through these unprecedented times.
Featured image
Image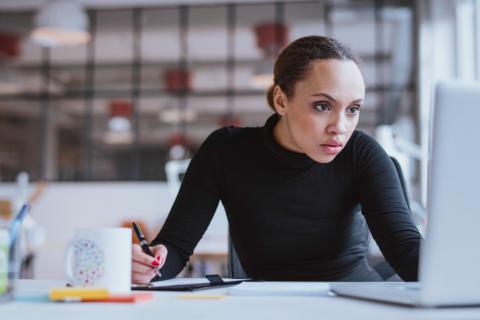 Standfirst
For any students receiving results this year, an associate admissions director shares her top tips for navigating clearing and how to find the right course for you