This article was produced by Casita
Managing finances as a university student is a huge step and could be tiresome if not taken carefully. Slimming down your costs of living in the UK and planning ahead any extra costs that you might come across is a smart step so consider the following tips on managing finances:
1. Note down your spendings
This is the first and most important step to learn how to manage money. Students may think that this is an easy task however, without this initial step, you can't plan your budget. Get a notebook and make it just for tracking your expenses and compare it to the estimated amount of money that you should spend on each category such as food, socialising etc. Some international students do it per week and some do it by month, but it has to be done. 
2. Save on food shopping
Shop in big supermarkets to get better deals. Consider cutting down your meat intake, as meat can be quite expensive. Use beans, lentils, pulses and vegetables as your protein intake instead. Freeze your leftovers and use them to make up another meal. Buy things one by one so you don't throw them away when their expiry date passes.
Make use of the many student discounts in the UK. Also look for vouchers as well as special offers and, most importantly, get a loyalty card from your local supermarket.
3. Use student discounts for outings
Hunt for cheap tickets and entry to cinemas and entertainment venues.
Try to find some some high-street restaurants' discount vouchers. Sign up to receive discounts and emails from your favourite restaurants' websites.
4. Discount cards and secondhand shops
When buying any clothes, make sure you are checking out if any student discounts are available.
Consider shopping at charity shops, secondhand stores and flea markets. Check the nearest ones around you and you will find hidden treasures at considerably lower prices.  
At university, international students struggle with buying books because of how expensive they are. In order to save some money go for secondhand books; ask around in your student accommodation and see if anyone is selling theirs or look on social media groups for your course or halls. You should also check your university's library  or the local library to see what kind of books they have. You can also see if certain articles or book chapters are available online. 
5. Transport discounts
All public transport in the UK offers a discounted rate for students, so try to get a discount card and use it every time you travel. Full-time students and anyone aged 16-25 can apply for a 16-25 railcard that saves you a third on rail travel throughout the UK.
A bike is also a good, cheap travel option if you are able to get one. Just make sure that the student accommodation in the UK that you're staying in has secure bike storage.  
6. On-budget student accommodation in the UK
Choosing student accommodation that perfectly suits your needs and lifestyle is not an easy decision. You have to consider a lot of things, like its location, cost, facilities, and transportation links. Considering these aspects will save you a lot of money - being near your university/college will make travelling back and forth seamless and lower the cost right down. In order to also make sure that setting your budget plan is effective, try to choose a student accommodation that has all-inclusive bills, which means that you won't have to pay any extra bills for water, electricity, and heat.
Featured image
Image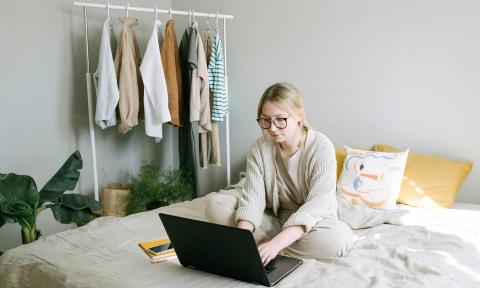 Standfirst
Six ways to reduce cost of living in the UK