A business major will provide you with a broad foundation in of business, technical and communication skills required to excel in management and leadership roles.
Student testimonials
Photo
Image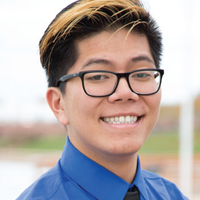 Testimonial
I decided to study Business Administration due to the prodigious career opportunities and the comfort of job security it has to offer. As a result, the major has allowed me to gain a broader, holistic and fundamental view of the business industry. Having taken courses from various emphases within the David Eccles School of Business, I now have knowledge in accounting, finance, management, marketing and operations. My field of study allowed me to become a well-rounded individual who is flexible and adaptable within the business world.
Logo
Image

Overview
The Business Administration major provides students with a strong knowledge base across the fundamental disciplines of business: accounting, finance, management, marketing, and operations.
Course details
Core courses cover everything from accounting and entrepreneurship to marketing and finance. Elective courses allow students to specialise their program according to their interests. There are an array of internationally focused electives on offer, including global challenges for entrepreneurs and international supply chain management. 
Entry requirements
Applicants are expected to have a transferable GPA of 2.6 or higher with 30 completed semester hours, or 2.35 or higher with a completed Associates of Arts or Associates of Science degree in order to major in business. Fall 2021 first-year applicants will need to provide official ACT or SAT test scores. 
Career outcomes
A bachelors in Business Administration prepares students for careers in a variety of industries in both the public and private sector. Graduates go on to work for companies such as Amazon, IHC, Rio Tinto, and Qualtrics.
Institution Name
The University of Utah
Institution Address
Spencer Fox Eccles Business Building,
1655 East Campus Center Drive,
Salt Lake City,
Utah 84112-8939
Institution Phone Number
+1 801-581-7415
Institution Email
MC@Eccles.Utah.edu
Display priority within Suggested Courses
4