Are you a global thinker interested in expanding your knowledge of international commerce to pursue employment in the global marketplace? As an International Business Management graduate, you have mastered the core concepts of international commerce and are well prepared to take on a challenging role in the international business sector. Upon successful completion of the program, you will be eligible to apply for a post-graduation work permit in Canada.
Student testimonials
Title
Lucia Castaño, Colombia
Photo
Image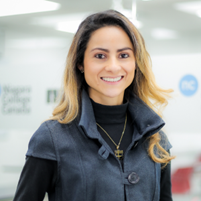 Testimonial
Toronto is a safe place, and we can see all four seasons. Toronto has a lot of opportunities for jobs as well.
Logo
Image

Overview
Tuition Fees: September 2021 - September 2022
Estimated Tuition Fees: $17,474.20 Academic Year (two terms) Estimate
(includes ancillary fees: $1, 674.20 )
Total Tuition Fees: $17,474.20
Course details
Proximity to one of the world's busiest international borders provides high-value experiential learning opportunities in the international commerce arena. The program offers a hands-on learning with faculty members who have diverse international business experience. Students will have an opportunity to study in the heart of downtown Toronto and gain access to the significant employment and entertainment opportunities offered by Canada's largest and most multicultural city.
Career outcomes
Graduates of this diploma can consider occupying positions of a customs broker or a distribution and logistics administrator. Other positions include a foreign trade consultant/specialist, an import/export manager, an international banker, and an international marketing and sales associate.
Qualification
Certificate
Display priority within Suggested Courses
4