The BA (Hons) Business Management (Marketing) degree will help you develop your understanding of the business world while specialising in marketing. The course will equip students with the knowledge and skills specific to marketing planning, strategy and communications that will lead them to become top professionals in marketing whilst also gaining a strong foundation of knowledge within business. 
You will acquire the necessary expertise to become a crucial part of your organisation, feeding intelligence to your management team, supporting effective decision making, attracting customers and understanding the market in your industry of choice. The programme will provide you with a practical understanding of key marketing concepts, and as a result you will be able to respond to distinct business requirements in the marketing area in a variety of contexts. 
The degree will cover several marketing and business concepts, such as how to build marketing strategies, managing communications, and how to gather relevant market intelligence. You will also learn key business fundaments such as finance, understanding organisations, business processes and business analysis.
Who is this programme for? 
This programme is perfect for those who aspire to become leading marketing professionals. It will enable you to build a promising professional future in your area of choice, equipping you with the tools you need to thoroughly comprehend the business world and the marketing aspect of organisations
Logo
Image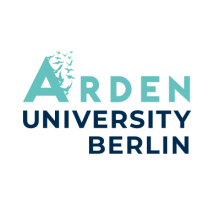 Overview
Why Arden?
Arden University is regulated by the Quality Assurance Agency for England (QAA) and the UK government
96% of Arden University graduates are in employment 6 months after graduation
Taught 100% in English
Intensive, engaging and face-to-face teaching by industry experts
Industry relevant, 21st century application
International student cohort with over 40 nationalities represented
Payment options and early-bird discounts available
Perfect central location in Berlin, close to key corporate players
Why Germany?
Germany has one of the best employment rates in Europe, at 91%*
4th Best Graduate starting salary at £40,650 in Europe, with a growing economy**
Germany is the most popular European country for international students, recognised for its high-quality education***
Berlin has been named the start-up capital of Europe
Berlin is the largest city in the EU with a thriving business scene, offering a range of job opportunities to young professionals and graduates
Germany has a rich history in culture and arts, offering students a chance to explore this whilst experiencing world-class education from a UK-recognised institution
*Times Higher Education
**I Am Expat
***According to statistics and data from the ICEF monitor
Fees
€ 8,000 per year for February Intake. € 10,500 from May Intake. € 1,000 per year early-bird discount (saving up to 3,000)
 
Course details
Level 4 
Digital Skills & Professional Development (20 credits) 
Contemporary Business Environment (20 credits) 
Marketing Dynamics (20 credits) 
Introduction to Business Finance (20 credits) 
People Management (20 credits) 
Technology & Innovation (20 credits) 
Level 5 
Data Analytics & Management (20 credits) 
Business Start-up (20 credits) 
Sales Management (20 credits) 
Digital & Social Media Marketing (20 credits) 
Managing Brands (20 credits) 
Consumer Insights (20 credits) 
Level 6 
Business Transformation (20 credits) 
Entrepreneurship and Innovation (20 credits) 
Corporate Governance, Law & Ethics (20 credits) 
Independent Study (20 credits) 
Global Marketing (20 credits) 
Marketing & Digital Strategy (20 credits)
 
Entry requirements
Two subjects at GCE A level or equivalent, plus passes at grade C or above in three subjects at GCSE level or equivalent; or
For non-standard entry requirements, please contact us
An English language level equivalent to IELTS 6.0 or above with a minimum of 5.5 in each component
 
Career outcomes
 Employment stats and USP's 
- Arden University has received 4.5* for student satisfaction 
- Arden has supported 50,000 higher education learners over 26 years
- 96% graduates are in employment or further study 6 months after graduation
- 79% students saw their career improve as a direct result of their studies
Why Arden University Berlin? 
• A boutique business school - tailored approach to students
 
Display priority within Suggested Courses
4